Former Darien Priest's Prison Assignment Changed to Massachusetts

By Monica Potts
The Advocate

October 9, 2008

http://www.stamfordadvocate.com/norwalkadvocate/news/ci_10679526

STAMFORD - A former Catholic priest convicted of stealing more than $1 million from his Darien church is now scheduled to serve a three-year prison term at a federal medical center in Massachusetts beginning Oct. 21, according to the United States District Attorney's office for Connecticut.

The Rev. Michael Jude Fay, a former pastor of St. John Roman Catholic Church, had been headed to a Bureau of Prisons federal medical center in North Carolina.

The start of his prison term has been delayed six times as federal prison officials and doctors from Memorial Sloane-Kettering Cancer Center in New York City discussed how to continue Fay's treatment for prostate cancer.

Fay is enrolled in a clinical trial of an experimental drug at Memorial Sloane-Kettering, and his participation in that trial will be transferred to the Dana-Farber Cancer Institute in Boston.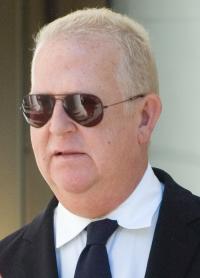 Rev. Michael Jude Fay, former pastor of St. John's Roman Catholic Church in Darien leaves U.S. District Court in New Haven last year.



The plan for Fay to report to a new facility was negotiated during an Oct. 7 conference call between the federal prosecutor for the District of Connecticut, Fay's attorney Lawrence Hopkins, and U.S. District Court Judge Janet Bond Arterton.

Fay pleaded guilty to interstate transportation of money obtained by fraud in September 2007 and in December was sentenced to 37 months in prison followed by three years of supervised release.