St. John's University Priest Accused of Sending Homemade Smut to 'Teen'

By Erica Pearson
New York Daily News
October 11, 2008

http://www.nydailynews.com/news/ny_crime/2008/10/10/2008-10-10_ st_johns_university_priest_accused_of_se-3.html

A St. John's University chaplain was charged Friday with transmitting an obscene Webcam image of himself to someone he thought was a 13-year-old boy, police sources said.

The Rev. Charles Plock, 63, picked the wrong "teen" to e-mail his homemade masturbation movies, authorities said. The recipient was actually Detective Mark Michieli of the Adams County, Colo., sheriff's office, who pretended he was a youth in an online sting operation.

Cops traced Plock's e-mail to St. John's, the Catholic university in Queens, where he is a chaplain and youth minister.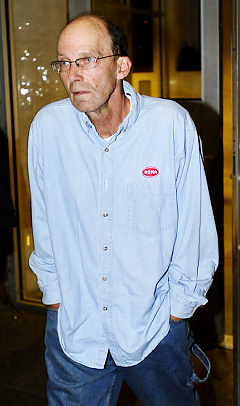 St. John's University Chaplain Charles Plock is released on bail from Queens court Friday after being arrested for sending homemade porn to teen boy in Colorado, who was actually a cop



When NYPD investigators showed up at the cleric's on-campus apartment in Murray Hall yesterday, Plock argued that he sent his X-rated videos only to consenting adults, a law enforcement source said.

"His face is clear in the video. It looks like he filmed it in his bathroom at St. John's, and he sent it to someone he thought was a teenager," the source said.

Cops got a search warrant and seized Plock's computers.

Plock, who appeared at Queens Criminal Court for his arraignment Friday night in a baby blue shirt and blue carpenter pants, kept his hands deep in his pockets and his head down. Neither he nor his lawyer answered a reporter's questions.

Plock was released on $150,000 bond on the condition he check into St. John Vianney Center, a residential psychiatric facility for the clergy in Downington, Pa.

The required 10% cash - $15,000 - needed to secure his immediate freedom was collected by his fellow priests at St. John's.

Plock ignored about a dozen people who shouted, "A 13-year-old?" "Shame on you" and "Pedophile" as he left court. His next hearing is set for Nov. 11.

Earlier Friday, outside Hollis Hall at St. John's where Plock has an office, freshman Kevin Winters, 18, declared, "Father Charlie? No way! He was a pretty all right guy."

Other students agreed Plock was a hip priest, always willing to talk and share the Marlboro Light cigarettes he kept in his pockets.

"He was such a nice guy. He was way too cool to be a priest," said freshman Taylor Jackson, 18.

A St. John's spokeswoman confirmed a staff member was in police custody, but declined to provide details about Plock's tenure or arrest.

Police sources said there was no indication Plock had behaved inappropriately toward St. John's students.

Plock was ordained in St. John's founding order, the Vincentians, in May 1973.

Besides his work at St. John's, Plock is a board member at Covenant House, a nonprofit organization that shelters runaway teens.

A spokesman for Covenant House said, "We will take any and all steps necessary to ensure the safety and well-being of our kids."

The nonprofit organization was rocked in the 1990s when its founder, the Rev. Bruce Ritter, resigned amid allegation that he had sexual relationships with young men at the shelter. He was never charged with a crime.

In his writings, Plock has been an advocate for immigrants and the downtrodden. He was often chosen to preside at activists' funerals, including that of Maria Hernandez, a Brooklyn mother of three gunned down in 1989, possibly by the drug dealers she battled.

"Wow, so he's going to hell now?" said St. John's freshman Vito Sapienza, 18. "Wait till my mom hears about this. She's going to think twice about sending me to a Catholic school."

Contact: agendar@nydailynews.com