Lapwai Woman Claims Priest Abused Her 33 Years Ago

By Matt Loveless
KLEW

October 14, 2008

http://www.klewtv.com/news/local/30921469.html

[with video]

Watch the video

LAPWAI - A Lapwai woman is making serious allegations against her former priest and church for incidents she says happened in the 1970s.

Mia Sonneck said Monday she's ready to face a 33-year-old demon.

"He took advantage of the situation and me," said Sonneck.

Sonneck, her family and her lawyer stood in front of a closed Nez Perce County courthouse Monday with a ten-page lawsuit in hand against the Society of Jesus, Oregon Province.

Sonneck said when she was 8-years-old, her priest, A.J. Ferreti, or "Father Freddy," sexually abused her on a number of occasions. The 41-year-old has not told her story until recently.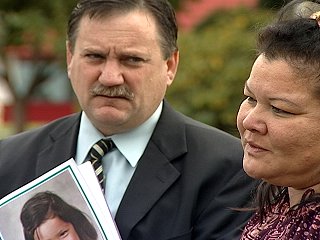 Mia Sonneck stands with her lawyer Monday in front the Nez Perce County Courthouse Monday.



"At the time it was happening, I wanted my family to be together," said Sonneck. "Then after, trying to become a woman, a teenager and stuff, I didn't want to think about something like that. I repressed the memory."

In the suit, filed Friday, Sonneck and her attorney Leander James allege the church of showing a pattern of harboring child abusers and protecting their identities.

"We have the testimony of Mia," said James. "We have a witness. We have other people that we feel will come forward throughout the process of the lawsuit. We're obviously at an early stage."

Thirty-three years does not exceed the new definition of statute of limitations for child abuse victims, according to James. He said that doesn't begin until the victims discover the connection between the abuse and the injury.

"The whole purpose of that is to allow these people who have suffered the horrors of child sexual abuse to be able to bring their claim forward when they discover the effect later in life," said James.

James said "Father Freddy" passed away in 1982, but that his client's painful memories didn't die. He said she is asking for at least $10,000 in restitution, but said that's not what the lawsuit is about.

"To focus everyone on this problem, to help protect future victims," said James.

"I didn't think I was good enough for a lot of things, and now I realize why," said Sonneck. "That's how it started out."