Supporters of Bishop Morlino to Publish Open Letter

By Doug Erickson
Wisconsin State Journal

October 17, 2008

http://www.madison.com/wsj/topstories/310086

Supporters of Madison Catholic Bishop Robert Morlino say they are fed up with people bashing their religious leader and will publish an open letter to the bishop thanking him this weekend.

The group also has launched a Web site where people can post testimonials about how Morlino or a diocese priest has blessed them.

The steps come a week after a small group of Morlino critics paid for the publication of an open letter in the Sunday Wisconsin State Journal alleging low priest morale and criticizing his leadership as heavy-handed and lacking compassion for those who disagree with him.

Jill Yanke of Cottage Grove said the ad and previous public criticism of Morlino begged a response. She and her husband, Dave, started a discussion group of like-minded Catholics on Google, which quickly led to launching the Web site and the open letter, she said.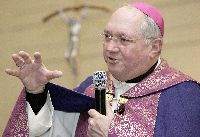 Madison Catholic Diocese Bishop Robert Morlino



"As people who strongly believe that Bishop Morlino is doing exactly what he's been called to do and is doing it with great love and compassion, we needed to do something to respond," she said.

The open letter will run as a paid advertisement in the Sunday State Journal and will be signed by more than 500 people, Yanke said. She shared a copy of the ad with the State Journal on Friday but declined to reveal how much the group is paying to run it.

While all of the money for the ad came from local parishioners who support Morlino, donating money was not a requirement for signing the letter, she said.

The letter lauds Morlino for adhering to Christ's teachings in all matters, even when that adherence is unpopular or politically incorrect.

"Steadfast in the face of criticism, you repeatedly put yourself on the line in the midst of a culture that little understands and often recoils from the costs associated with being a disciple of Christ," the letter says.

Yanke said the bishop's office was not involved in creating the letter.

"It's totally a groundswell of the laity," she said. "It touches my heart."

Brent King, spokesman for the Madison Catholic Diocese, said Morlino was out of the state on church business most of this past week but has been kept apprised of the support that has come his way. The letter "is just another example of that," King said.

Last week's open letter criticizing Morlino was paid for by about 45 people, 36 of whom signed their names. Many are members of the Madison-area branch of Call to Action (CTA), a national group that was formed in the 1970s by Catholics who want church teachings to change on issues such as mandatory priest celibacy and artificial contraception.

Joan Weiss of Prairie du Sac, a leader of the Madison-area CTA, said she is not surprised that the group's letter criticizing Morlino would trigger a rebuttal.

"Obviously, there are people out there who support him," she said. "It's not a contest. We just wanted people who have issues with the bishop to know that they are not alone. There is real pain and confusion in the pews."

Morlino has led the 270,000 Catholics in the 11-county Madison diocese for five years.

Syte Reitz of Madison said she signed the letter supporting Morlino because her image of him is completely at odds with what she hears critics saying.

"Like a good parent, he doesn't always allow people to do whatever they feel like, but he tries to teach with gentleness and love and in a private way," she said. "He really doesn't deserve to have such unfair, untrue accusations thrown at him in a newspaper."

Andrea Gray of Evansville, another letter signer supporting Morlino, said she converted to Catholicism right before Morlino arrived in Madison. His strong but compassionate approach to teaching Catholicism underscores everything she has come to love about her new faith, she said.

"I was really blown away by the depth and beauty of Catholicism, which so often gets hidden by the public criticism," she said. "It really changed my life."

Contact: 608-252-6149 or derickson@madison.com