Catholics to Get New Bishop

By Dan Horn
Cincinnati Enquirer

October 18, 2008

http://news.cincinnati.com/apps/pbcs.dll/artikkel?Dato=20081018&Kategori=NEWS01&Lopenr=810180329&Ref=AR

The next leader of the Archdiocese of Cincinnati arrived Friday to applause, accolades and an invitation to try the city's famous chili.

His job will get tougher in a hurry.

The Most Rev. Dennis M. Schnurr, the bishop in Duluth, Minn., since 2001, will soon take the reins of an archdiocese that is seven times larger and facing greater challenges than the one he is leaving.

The new archbishop will have to contend with stagnant revenue and rising costs, lingering anger over the clergy abuse scandal, changing demographics that have led to parish closings and a shortage of priests that threatens the spiritual heart of the Catholic Church.

"There is much work ahead," Schnurr said. "The role of the bishop is to bring hope to the people."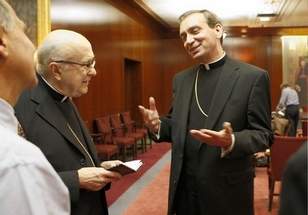 Pope Benedict XVI has appointed the Most Rev. Dennis M. Schnurr (right) as the next leader of the Archdiocese of Cincinnati. Schnurr talks Friday with Archbishop Daniel Pilarczyk, whom he will replace.



Archbishop Daniel Pilarczyk, the man Schnurr will replace in a year or so, said the new archbishop is up to the task. Schnurr, 60, is a canon lawyer with a background in finance and a long history of national leadership positions.

He proved a strong recruiter of new priests in Minnesota - tripling the number of seminary students - and was the organizer of the World Youth Day celebration in Denver that drew Pope John Paul II and thousands of Catholics.

When the Vatican asked the 74-year-old Pilarczyk for names of potential successors, he immediately thought of Schnurr, whom he has known for 20 years.

"It was a very short list, and he was at the top," Pilarczyk said. "I hope all the members of the Archdiocese of Cincinnati are as happy as I am about the appointment of Father Schnurr."

The archdiocese staff greeted Schnurr with applause Friday, and several others in the archdiocese, including some of Pilarczyk's critics, expressed cautious optimism about the changing of the guard.

"One man is not going to change the world, but maybe together we can," said Christy Miller, co-leader of the Cincinnati chapter of the Survivors Network of those Abused by Priests. "We hope it's a good thing. It can't be any worse."

Miller and others have complained for years that the scholarly Pilarczyk lacks the people skills needed to deal with Catholics frustrated by the archdiocese's handling of difficult problems.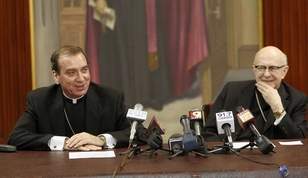 2008_10_18_Horn_CatholicsTo_ph_Schnurr.jpeg



The harshest criticism came after the abuse scandal erupted in 2002, prompting the suspension of more than a dozen priests and tough questions about Pilarczyk's oversight of them.

Pilarczyk, who has served 26 years as archbishop, acknowledged Friday that it might be time for a change.

"I have been thinking about retirement for a long time," he said. "After 25 or 26 years, one tends to get a little bit tired."

Schnurr's reputation in Minnesota suggests that Catholics here will see a dramatic change in approach and personality. Those who know him in Duluth say he is warm, funny and engaging.

"We've been very lucky," said John Lepak, former leader of the Knights of Columbus in Duluth. "He's a wonderful man."

Although Schnurr was a parish priest for just three years, he maintained close ties to parishes and traveled extensively in the sprawling Duluth diocese, which, geographically, is three times the size of the 19-county Archdiocese of Cincinnati.

Some in Duluth praised his ability to connect with parishioners. He started a diocese newspaper, expanded youth programs and wrote a monthly column that appears on the diocese Web site.

"I enjoy being out in the parishes. I enjoy being out and amongst the people," Schnurr said. "I think we did good work in Duluth."

For the most part, Duluth escaped the trauma of the sexual abuse crisis: The most recent accusation against a priest came in 1995 - six years before Schnurr took over as bishop.

But Schnurr said the scandal is a problem that all dioceses must face. He said he has tried to reach out to victims, meeting several of them individually "just to listen and to apologize to them on behalf of the church."

"There is no doubt it is a deep wound in the church, and deep wounds take a long time to heal."

The focus of Schnurr's tenure in Duluth was expanding vocations, or priest recruitment, by reaching out to schools, youth groups and other organizations. The 22 seminary students in Duluth now is a threefold increase since 2000.

"The most significant thing he has done is getting young men interested and enrolled in the seminary," said John Kelly, spokesman for the Serra Club, a lay group in Duluth dedicated to increasing the number of priests. "He's clearly a leader. He's got a lot of ability."

Schnurr has spent almost two decades working on the national level for the U.S. Conference of Catholic Bishops, both as a general secretary and treasurer. He has three years of college-level financial training.

Schnurr seems to have avoided big controversies while in Duluth and has urged clergy to be cautious about getting too deeply involved with politics.

In 2006, he asked Sister Helen Prejean not to come to Duluth to deliver a keynote address to an educational group because she had signed on to a national ad campaign protesting President Bush's policies. Prejean is a social activist made famous by the movie "Dead Man Walking."

Those who know him say he would rather deal with the day-to-day problems of parishioners than dive into national politics.

Pilarczyk said he will remain on the job for at least a year and will spend the next several months showing Schnurr around the archdiocese, which covers most of Southwest Ohio.

Schnurr, a native of Iowa, said he's been to Cincinnati twice before this week but will soon immerse himself in church finances, priest recruitment and the local culture, including high school football games and Cincinnati chili.

"As I've been saying for 25 years, I need all the help I can get," Pilarczyk said. "This is big-time help."

Contact: dhorn@enquirer.com