Arrivederci: Anne Hathaway's Ex Headed to Prison

By Natalie Finn
E! Online
October 23, 2008

http://www.eonline.com/uberblog/b65422_arrivederci_anne_hathaways_ex_headed.html

Well, we know someone who won't be paying Raffaello Follieri any conjugal visits.

Despite his appeal for leniency, Anne Hathaway's Italian ex-boyfriend was sentenced to four and a half years in prison Thursday for bilking investors of $2.4 million by posing as an attaché for the Vatican in order to snatch up unused Roman Catholic Church property on the cheap.

On Sept. 10, Follieri, 30, pleaded guilty to eight counts of wire fraud, five counts of money laundering and one count of conspiracy to commit wire fraud. As part of the deal, the disgraced businessman, whom prosecutors called a "sophisticated scam artist," also agreed to forfeit all the money he "made," as well as 12 watches and nine pieces of jewelry purchased with shadily obtained sums.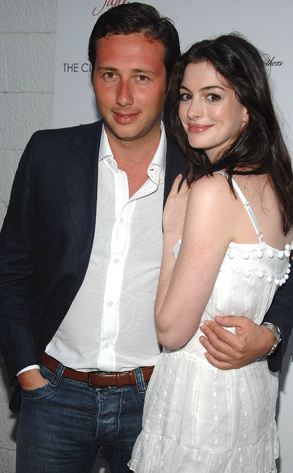 Dimitrios Kambouris



And considering he had been facing up to 265 years in prison if he had been convicted of weightier charges, he also waived his right to appeal any prison sentence shorter than five years and three months.

Another hearing is set for Dec. 12, when he'll learn where, and under what security conditions, he gets to serve the bulk of that time.

U.S. District Court Judge John Koeltl also ordered that Follieri be under court supervision for three years upon his release and then deported back to Italy after completing his sentence.

"I have dishonored my family name and embarrassed the church I love," Follieri, speaking in Italian, said in a statement through an interpreter in the Manhattan courtroom.

"What I did was wrong and there is no point in making excuses…I will never be able to wash away the shame. I hope that someday those hurt by my actions will forgive me."

Count the onetime recipient of the fruits of his ill-gotten gains, Anne Hathaway, among those he hurt.

The Rachel Getting Married star, who let it be known in June that she had cut ties with Follieri after about four years together, said in the October issue of W that she felt as if "a rug was pulled out from under [her] all of a sudden."

"But just as suddenly, my friends threw another rug back under me. One said, 'Go stay at my house.' And Steve Carell stepped up for me during an interview when someone asked a question [about it]. He said, 'At some point you're going to have to talk about this time in your life. You don't have to do it this week. I'll take care of anything that comes your way.'

"I've been shown such kindness. Not everyone gets that. A lot of people go through tough times alone."

Since then, she's been working hard, tearing up the red carpet in one glamorous number after another, and even poking fun at her relationship troubles on Saturday Night Live.

"I broke up with my boyfriend, and two weeks later he was sent to prison for fraud. I mean, we've all been there, right, ladies?" the actress said, before joking that she had recently sent about $100,000 to her new beau, a Nigerian prince who had emailed asking for help and her Social Security number.