Cross Purposes

By Alyson Aiello
Wicked Local Newburyport
October 24, 2008

http://www.wickedlocal.com/newburyport/homepage/x398379509/Cross-purposes

When shopping season begins to slow in the Port and snow covers the sidewalks, you'll still find Helen Wisocki-Tierney working at her store, Headlines Boutique, at Merrimac Landing. But rather than setting up a new display or pricing new arrivals, you might find her leaning closer to her computer screen, writing.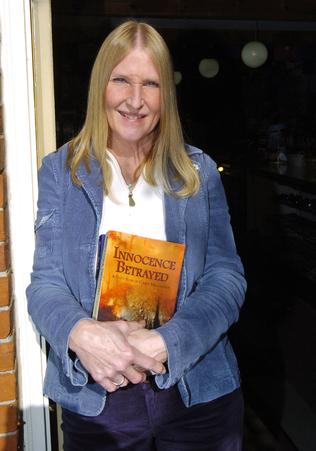 Helen Wisocki with her book' Innocence Betrayed' at her Newburyport store called Headlines Boutique. The Michigan native co-wrote the book which takes on the subject of clergy misconduct.
Photo by Nicole goodhue Boyd


Wisocki-Tierney, who had always wanted to write a book but never found the right inspiration, fell into fiction writing by accident in 1999. She had traveled to her hometown of Dearborn, Mich., to attend her 30th high school reunion, where she reconnected with an old classmate, Curt Szajnecki. The two had "an instant attraction," she said. They spent the evening catching up, and she found herself especially interested in the story Szajnecki told of his recent divorce.

The story begins when Szajnecki and his wife started attending a new church with their four daughters. The family, who Wisocki-Tierney described as devout, quickly became active members in the church. It was Szajnecki's wife, however, who became especially attached.

According to Wisocki-Tierney, the pastor of the Methodist church, who was 20 years the woman's senior and whose wife was dying of cancer, took a particular liking to Szajnecki's wife and began "grooming" her for increasing involvement in the church. The events that followed are described by Wisocki-Tierney as a "methodical dissection" of the family at the hands of the pastor.

"The pastor pulled Curt's wife away for church activities day after day, and the girls began wondering what was happening and what had changed with their mom," Wisocki-Tierney said. "Before long, she was talking divorce."

After the pastor's wife died, Szajnecki's wife did seek a divorce. She eventually married the pastor, moved towns and took the girls with her. An experience that Wisocki-Tierney described as difficult for the girls, because it was sudden and because living under the rule of the pastor was colored by harassment. As one daughter claimed, there was sexual harassment.

When Wisocki-Tierney left Michigan following the high school reunion, she knew two things: she wanted to be with Szajnecki and she wanted to help him through this ordeal, which both describe as abuse of power on the part of the clergy.

"We started communicating after I left, and the further we got along with the story, the more we thought it could become a book that would help other people. And so, we started writing everything in chronological order and organizing notes," Wisocki-Tierney said. "Soon we had a book."

The two, who also continued their romantic relationship long distance, began working together to file suit against the church for wrongdoing against Szajnecki's family, especially his girls, which ended in a settlement for his youngest daughter.



Breach of trust

Over a seven-year period, Wisocki-Tierney completed the book "Innocence Betrayed: A Dad's Story of Clergy Misconduct," a fictionalized version of actual events, which was released by PublishAmerica in September 2007.

Szajnecki said it was easy working with Wisocki-Tierney.

"She was amazing right from the start when we reunited at our high school reunion. She labored on this book for hundreds of hours as if my children were her children," he said." She is my angel on earth for sure.

Szajnecki was equally instrumental in developing the book, not only because of the events and characters, but also because of his interest in abuse of power on the part of authority figures. Following his experience, he got involved with a number of victim-support organizations and began studying issues of misconduct.

"As an educator myself, I discovered through my training process the enormous amount of trust, responsibility and influence a teacher can have in a child's life. The teacher is entrusted by oath and holds major power imbalances over the student. That's why our nation's schools have rules, regulations and laws in place to protect the students against this very powerful dynamic," he explained.

"When these major power imbalances are applied to any member of our nation's clergy, pastors, priests, etc., this major power imbalance becomes magnified many times because of the attached spiritual power dynamic."

Szajnecki and Wisocki-Tierney have created a workbook to accompany the book, which is designed to educate people about clergy misconduct and give them tools to identify potential abuse of power.

"A key fact is to learn that no child or adult can give consent for a clergy member to advance the spiritual relationship to one of a physical nature, period. The clergy person is God's replacement here on earth, which creates the power imbalance in the relationship," Szajnecki said.

"In our book and subsequent workbook, we give the readers clear examples of how to spot clergy misconduct and how it can lead to clergy abuse if not reported. It's also critical that all parishioners have on hand a current issue of their church's policy on what is clergy misconduct, abuse, and how and to whom they can make a report to start an investigation, including outside police agencies," he said.

As for Wisocki-Tierney, she is pleased that the book has already helped a number of victims. "People think clergy misconduct is a Catholic issue, or that it is only sexual in nature, but it extends over all religions and has many levels."

Szajnecki and Wisocki-Tierney are now engaged and plan to make their home in Newburyport. She is at work on a second book, which again involves religion and misconduct, but is actually a story of miracles. She was also recently published in an anthology of short stories and poetry called "Forever Friends."