Two New Orleans Churches Occupied in Defiance of Archdiocese

By Bruce Nolan
The Times-Picayune
October 28, 2008

http://www.nola.com/news/index.ssf/2008/10/two_new_orleans_churches_occup.html

Parishioners occupying two Catholic churches in defiance of closure orders from the Archdiocese of New Orleans began laying plans Monday to live there in shifts -- in one case after parishioners apparently played cat and mouse with archdiocesan officials who thought they had locked them out.

At the end of the day, parishioners at St. Henry and Our Lady of Good Counsel were inside their churches and organizing to remain.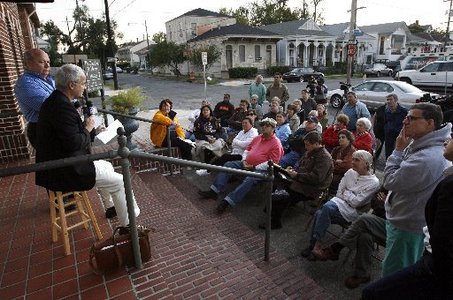 Parishoners at St. Henry Church in Uptown listen Monday to Peter Borre, a Bostonian who has been active in the resistance to closing parishers in that city.
Photo by David Grunfeld


In addition, parishioners from both communities met Monday night with Peter Borre, a Boston energy consultant who has been involved in Boston parishes' resistance to a wave of parish closings Cardinal Sean O'Malley ordered in 2004.

Five parishes there have been occupied around the clock -- or under "vigil" -- for four years.

In an interview earlier Monday, Borre said he would urge New Orleans parishioners to resist the closings with occupations, in part because "these vigils are the only thing these bishops understand."

Later, he told a group of two dozen St. Henry parishioners that Boston parishes are being occupied by traditional, mainstream Catholics who are finding their faith enriched in the struggle.

"Here in Catholic America, some people are standing up and saying these are our parishes, and we will protect them against the depredations of our appointed bishops," he told the group.

Parishioners of the two churches, and those of a third Catholic parish, St. Francis de Sales in Central City, gathered at their churches Sunday for their last Masses as their parishes formally dissolved under a closure order by Archbishop Alfred Hughes.

Their closure nearly ends a long post-Katrina reorganization of archdiocesan worship life, shrinking the regional church from 142 to 108 parishes.

After a final midafternoon service, some members of St. Henry began their occupation, apparently letting themselves into the locked church with keys entrusted to them because of various volunteer duties.

However, for most of the day Monday, it appeared that the archdiocese had pinched off a tardy attempt by Good Counsel parishioners to occupy their church.

Archdiocesan spokeswoman Sarah Comiskey said Monday afternoon that when archdiocesan officials called Good Counsel's pastor, the Rev. Pat Collum, Sunday night, they learned that an occupation had not yet begun.

When they arrived by pre-arrangement Monday morning to collect sacramental and other records from the closed parish, they changed the church's locks, as they had always planned to do, Comiskey said.

They left the church locked -- and they thought, empty.

In fact, at least one parishioner had remained quietly in the church Sunday night, and went undetected as locksmiths changed the locks Monday morning, said Barbara Fortier, head of Good Counsel's parish council.

Because the church doors can be opened from the inside by a simple push, the new locks are ineffective for those already inside.

As a result, to the apparent surprise of the archdiocese, Good Counsel parishioners gathered in their church Monday night to plan the logistics of an occupation.

At St. Henry's meanwhile, parishioners Monday completed their first day in possession of their church.

Comiskey said that archdiocesan officials, knowing that an occupation was under way at St. Henry, did not go to that church Monday and risk confrontation by trying to change locks.

Sunday night St. Henry was locked, quiet and dark. Ann Farmer, a real estate agent serving as one of two coordinators of the occupation, said the church was occupied all night -- and in fact a voice behind the locked door answered a reporter's knock Sunday night.

Farmer said parishioners would work out the logistics of the occupation in coming weeks, agreeing to issues involving security, communications, food and the like.

The church still has lights, water and air conditioning. Comiskey said the archdiocese would keep supplying power to the church, as it does to dozens of other buildings it has closed, to control temperature and humidity, reduce mold and other threats to the property.

It was not immediately clear under what terms parishioners might be able to worship together on Sunday.

Comiskey said she did not know whether Hughes has considered granting a visiting priest permission to celebrate Mass for the displaced parishioners. In addition, Comiskey said St. Henry's pastor, Monsignor Henry Engelbrecht, and two other priests living in the parish rectory have been given extensions of several weeks to remain there while they work out new living arrangements.

She also disclosed that Engelbrecht, who has championed St. Henry's continuation -- but who discouraged the occupation now under way -- has been granted a two-month sabbatical. She said he also has agreed to accept a new parish assignment in the spring.

Engelbrecht said he hoped St. Henry's internal church appeal would be resolved by spring. If the parish wins, which most experts in parish closures say is unlikely -- he said he could see requesting reassignment there.

"We're hoping that we'll hear something from Rome by then, but all this is nebulous," Engelbrecht said. "But I need a place to say. I'm a priest. I'm not one to sit on my duff and do nothing. . . . I still very much support the people and think they have a right to have their case heard in Rome."

. . . . . . .

Bruce Nolan can be reached at bnolan@timespicayune.com or 504.826.3344.