SNAP Urges Bishop Braxton to Drop Appeal of Sex Abuse Case
Appellate Court Ruled against Diocese

By Scott Wuerz
News-Democrat
October 28, 2008

http://www.bnd.com/news/local/story/519879.html

Members of the Survivors Network of those Abused by Priests on Monday delivered a letter to Belleville Bishop Edward Braxton asking him to drop an appeal aimed at throwing out a 1984 abuse case brought by an O'Fallon man's case.

"Just six months ago, during his U.S. visit, the pope told bishops and Catholics to 'do everything possible' to help victims of pedophile priests heal," David Clohessy, national director of SNAP wrote to Braxton. "Do you think he meant forcing victims like Chris Amenn to wait years and years for healing, justice and closure?"

A reporter who visited Braxton's office Monday seeking a response was told by a secretary that he was not available.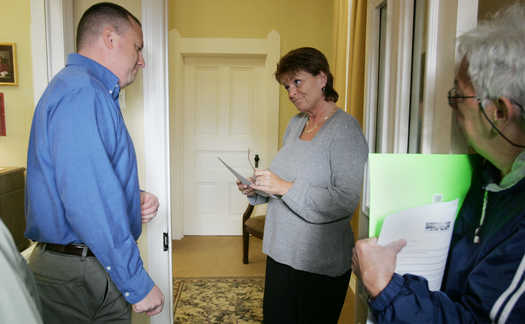 Chris Amenn hands Bishop Edward Braxton's secretary a letter asking Bishop Braxton to drop an appeal aimed at throwing out a 1984 abuse case. Also pictured is Ann Harter of the Fellowship of Southern Illinois Laity.
Photo by Zia Nizami


Amenn, who handed the letter to a Braxton staff member, filed a lawsuit against the Belleville Diocese in 2003 stating he was molested as a youth by a priest, the Rev. Kenneth Roberts. The diocese countered that the case should be thrown out because the abuse is alleged to have happened in 1984, when Amenn was 14 years old, and the statute of limitations has run out. In March, the 5th District Appellate Court in Mount Vernon ruled in a 2-1 decision that the case could go forward.

Braxton appealed the decision to the Illinois Supreme Court, which has not yet announced whether it will hear the case.

"If he thinks Roberts is innocent, why would the bishop appeal the ruling?" Clohessy asked of the appellate court decision. "Argue the merit of the case, not technicalities."

Amenn, who is now a St. Louis firefighter, said it is important to him to fight on to make sure the case is eventually heard, no matter how long it takes.

"This is bigger than me now," Amenn said. "This is about protecting innocent people who can't speak for themselves. I hope the Supreme Court hears this case and upholds the appellate court's decision."

Braxton told members of the Belleville Diocese in a letter earlier this year that the decision was made to fight cases like Amenn's because the church could not afford to pay the multimillion judgments that have been awarded in similar cases across the country.

Anne Harter, of the Fellowship of Southern Illinois Laity, said that argument isn't logical because the church is spending tens of thousands of dollars meant for programs to help the sick and the poor on legal fees to defend itself.

"What nerve they have to whine about the ministries not having enough funds," Harter said.

Contact reporter Scott Wuerz at swuerz@bnd.com or 239-2626.