SNAP Wants Investigation of Priest Who Fathered Triplets

By Caryn Tamber
Daily Record

October 31, 2008

http://www.mddailyrecord.com/article.cfm?id=8953&type=UTTM

The Survivors' Network of those Abused by Priests is asking the Catholic Church to find out whether a priest accused of molesting two of his own children abused anyone else.

Men from SNAP gathered in front of the Archdiocese of Baltimore's headquarters Friday morning for a news conference regarding Fernando Cristancho, who once served as a pastor at St. Ignatius Church in Forest Hill.

"I'm horrified that the Church continues to do nothing to put a substantial end to [clergy] sex abuse," SNAP member Frank Dingell said.

Cristancho's name became public this week when the Court of Special Appeals upheld a judge's decision to give custody of 6-year-old triplets to the woman who gave birth to them, Dalia Fernandez, a platonic friend of Cristancho. The children — two boys and a girl — were conceived using his sperm and eggs from an anonymous donor.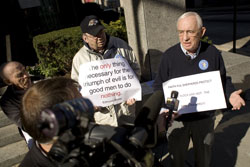 From left, Jerry Hammell, George Beall and Frank Dingle of SNAP are interviewed outside the Archdiocese of Baltimore headquarters on Friday.



Cristancho lost his post at St. Ignatius when church officials learned the children were his, according to the appellate court.

He has not been criminally charged with abuse.

The Department of Social Services determined that child sexual abuse of the two boys was "indicated," its highest-level finding, and the judge in the custody dispute found Cristancho had abused them.

The appeals court rejected Cristancho's challenge to that finding.