Christmas Interested in Job

By Michael Lightstone
The Chronicle-Herald

November 2, 2008

http://thechronicleherald.ca/NovaScotia/1088112.html

The panel set up to examine the legacy of Canada's Indian residential schools could have a Nova Scotia Mi'kmaq as a candidate for its new leader, according to a published report.

Bernd Christmas, former CEO of the Membertou First Nation in Cape Breton, said in the Globe and Mail on Saturday that he's willing to be considered as the head of the Truth and Reconciliation Commission, a committee that is to look at a system of forced assimilation in which scores of native children were removed from their communities.

If Mr. Christmas does get the job, which would be an appointment by the federal Indian affairs minister, he would replace Ontario Justice Harry LaForme, who quit as commission chairman recently over what the judge said was "an incurable problem." The problem stems from a dispute he was having with the other two panel members.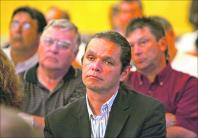 Bernd Christmas, a Mi'kmaq lawyer, is former CEO of the Membertou Firsrt Nation



Justice LaForme, an aboriginal judge with Ontario's Court of Appeal, was appointed in April. According to the Globe and Mail, two other potential candidates for the top commission job are Georges Erasmus, former co-chairman of Ottawa's Royal Commission on Aboriginal Peoples and Judge Murray Sinclair of the Manitoba Court of Queen's Bench.

Mr. Christmas couldn't be reached Saturday.

The Truth and Reconciliation Commission's website says its mandate is to inform all Canadians "about what happened in these (residential) schools so that the commission can guide and inspire aboriginal peoples and all of Canada in a process of truth and healing on a path leading toward reconciliation and renewed relationships based on mutual understanding and respect."

Mr. Christmas, who's in his 40s, is a lawyer and business development professional who left his Membertou post after a disagreement there. He said in 2006 he and the band council had wrapped up "a couple of months of protracted negotiations" that failed to see him continue as chief executive officer because of "philosophical differences."

He made headlines when he was the CEO there and helped guide the Membertou First Nation through an economic growth spurt.

Contact: mlightstone@herald.ca