Bishop Paulk's Megachurch for Sale

By Kevin Duffy
The Atlanta Journal-Constitution

November 6, 2008

http://www.ajc.com/traffic/content/metro/dekalb/stories/2008/11/06/bishop_paulk_megachurch.html

Attendance dropped after sex scandals

The church campus in south DeKalb County started by Bishop Earl Paulk, who built a megachurch but was plagued by sexual scandal for more than 40 years, is on the market for $24.5 million.

Paulk, 81, moved his church to Flat Shoals Parkway and Wesley Chapel Road in the early 1970s and later built a neo-Gothic worship center that can seat more than 6,000 people.

Today, the church is called Cathedral at Chapel Hill and is run by the Rev. D.E. Paulk, who grew up thinking he was Earl Paulk's nephew but later learned he is his son.

Church membership dwindled from more than 10,000 two decades ago to about 1,000 today because of sexual misconduct allegations against Earl Paulk and other ministers.

The smaller church's mission has changed, so it doesn't need so much property, D.E. Paulk said in the sale announcement.

"As the message and expression of our ministry has transitioned to become more open and radically inclusive of all people, we realize the ministry can be facilitated in a smaller and more urban location," he said.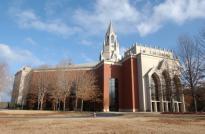 The Cathedral at Chapel Hill in south DeKalb County was founded by Bishop Earl Paulk in the early 1970s. It's on sale for $24.5 million. The congregation has shrunk from a high of more than 10,000 to about 1,000 after sexual misconduct charges against him.



Paulk, who describes himself as a "radically inclusive minister," also is the founder of the Pro-Love Organization, whose mission is to unite people of different faiths, cultures and backgrounds.

"This is one of the largest religious and educational facilities currently available in the United States," said Matt Messier, broker and principal of CNL Real Estate Services of Orlando.

Last year, a memorial service for Tammy Faye Messner, the former wife of disgraced minister Jim Bakker, was held at the Cathedral at Chapel Hill. Her grown children are close to the family of D.E. Paulk.

The Rev. Brandi Paulk, who is married to D.E. Paulk and is a pastor at the church, said the property was appraised two years ago at $31 million but is priced lower because of the economic slump. The property is not being marketed to pay any expenses related to legal problems, she said.

In February, a judge dismissed a lawsuit filed by a woman and her husband that alleged Earl Paulk engaged in a 14-year affair with the woman. The couple and their lawyer were ordered to pay legal fees of more than $1 million; they have filed an appeal.

Earl Paulk is the archbishop at Cathedral at Chapel Hill but does not have an active role in the church because of his age and frail health, Brandi Paulk said.

She said Earl and wife Norma Paulk live on the property, as do Earl's brother, Don, and Don's wife, Clariece. Clariece Paulk is D.E. Paulk's mother.

Earl Paulk's sexual misconduct problems go back to 1960 when he had an affair while at an Atlanta church. He and his family then moved to Arizona.

Paulk returned to Georgia and founded the church in DeKalb County, which at different times was also called Chapel Hill Harvester and the Cathedral of the Holy Spirit.

Earl Paulk gave D.E. Paulk the title of senior pastor two years ago.