Priest Speaks out about Child Sex Abuse Allegations

By Carolyn Peirce
Examiner

November 6, 2008

http://www.baltimoreexaminer.com/local/33940764.html

The Catholic priest accused of sexually abusing two of his 6-year-old triplets claims their surrogate mother vengefully orchestrated the allegations, knowing he was vulnerable as a priest, to gain sole custody of the children.

Fernando Cristancho, 52, tearfully denied the allegations during a three-hour interview with The Examiner at the Bel Air public library Tuesday evening. His beard tinged with gray and his spirit broken with the realization that he'll never again hold his children without a supervisor watching and wondering.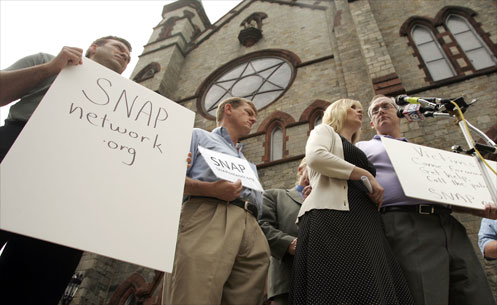 Several organizations including the Survivors Network of Those Abused by Priests, SNAP, and ReGAIN protest alleged sexual abuse by priests and work with victims to plead their cases. — Examiner file photo



Armed with court documents and video recordings, Cristancho laughed between tears while showing tapes of his children, two boys and a girl, who now live with their surrogate mother, Dalia Fernandez. The Department of Social Services found in August 2006 that Cristancho had sexually abused the boys — a civil finding upheld by Harford Circuit Judge Emory Plitt Jr. and the Maryland Court of Special Appeals, although he was never criminally charged.

"I have not seen my children in 114 days," Cristancho said. "They should be with me. ... These children are my life and this is killing me."

Among the footage of his children swimming in a creek, reading books and coloring with crayons, Cristancho shows a video dated Feb. 24, 2007, in which both boys, while sitting at the kitchen table with a court ordered facilitator, disclose that Fernandez told them to say their father had touched them inappropriately.

The boys also say in the video that the baby sitter who reported Cristancho to police in 2006 "wants to put daddy in jail," because she doesn't like him.

The facilitator, Deborah Green, who now works for the DSS, had issued an October 2008 report to the court recommending Cristancho be allowed unsupervised visits and describing him as "a man who is passionate about his children and is desperate to have an ongoing relationship with them," according to court records Christancho provided to The Examiner.

A 'secret man'

But to Fernandez, 57, the priest remains a manipulative and secret man responsible for the weekly counseling her children require.

"My kids have gone through a lot," Fernandez told The Examiner earlier this week. "They are three innocent, naive children and I don't know how much this is going to affect them."

When the abuse was first alleged in November 2005, Cristancho said Fernandez was trying to "alienate" him from the children because she was jealous of his relationship with them.

He claims she was verbally abusive and instigated physical fights with him, hoping he would strike her so she could report the abuse and gain sole custody of the children.

The verbal and physical abuse prompted Cristancho to file for sole custody after Bel Air police responded to a fight on Nov. 17, 2003, and asked Fernandez to leave the house.

That same night, she told police that Cristancho was spending hours with an 11-year-old boy locked inside a room for Spanish lessons.

The boy's grandmother later testified in court that she was suspicious when her grandson spent the night at Cristancho's house and never used his sleeping bag, but the boy denied any abuse and his parents declined to cooperate with police.

Fernandez told The Examiner she now realizes that she was mistaken about the abuse involving the 11-year-old boy.

'It's very uncomfortable living that way'

Today Cristancho regrets that he didn't challenge the DSS report, which he says was faulty. His lawyer had advised him to wait until trial to argue against the abuse allegations, but the judge ultimately upheld the DSS report because Cristancho hadn't contested it, he said.

Before the allegations ever surfaced, Cristancho claims he was planning to leave the priesthood to start a new life.

"I wanted to have children and get out of the priesthood and move on. Everywhere you go with a collar in this society, everybody tattoos you and sees a child molester or a homosexual and it's very uncomfortable living that way," he said.

Fernandez, who was 50 when she underwent in vitro fertilization, said she was persuaded to have Cristancho's children, even though she hardly knew him, because he told her she was chosen by God.

Cristancho said he didn't dispute that allegation in court, but said he only chose Fernandez as a surrogate because "she was the person at hand." The two traveled to his native Colombia, South America, in 2001 to undergo in vitro fertilization with another woman's eggs and Cristancho's sperm.

After the triplets were born in November 2001, Cristancho changed his mind and stayed at St. Ignatius Church in Forest Hill while keeping his family a secret.

The double life became too much for him in July 2002 when Cristancho was offered an assignment to another parish in Frostburg. He decided to tell Cardinal William H. Keeler, then archbishop of Baltimore, about his previous plans to leave the priesthood and how that led to a family, hoping Keeler would allow him to stay with the church.

But Keeler could not accept the children and dismissed him from serving the church with warnings "not to create scandal" by discussing his children, Cristancho said.

The Archdiocese of Baltimore maintains that Cristancho's faculties were revoked because he refused to accept the assignment — before the archdiocese learned of the children, said spokesman Sean Caine.

Cristancho also denies allegations of sexual misconduct with a young woman who wasn't a minor, for which he was fired in 1997 from the Parish Council at Good Shepherd Church in Alexandria, Va.

He said several priests were angry that he had shifted their positions in the church and banded together to accuse him of having an affair. Cristancho said the alleged victim was a pregnant illegal immigrant who he was counseling and that she also denied any relationship had occurred.

Despite the findings, Cristancho said he has not been defrocked, which can only be done by the Vatican. The Survivors Network of those Abused by Priests recently protested outside the Archdiocese of Baltimore headquarters, asking the church to further penalize Cristancho and calling on any additional victims to come forward. Cristancho said the protest offended him because he preaches against child molestation and works toward the same cause as SNAP members. He said he plans to reach out to SNAP and hopes to return to the ministry when his children are older.

Contact: cpeirce@baltimoreexaminer.com