Mass Protests

By Jason Berry
Gambit Weekly

November 9, 2008

http://www.bestofneworleans.com/dispatch/current/news_feat.php

Rebuffed in court, parishioners at several shuttered Catholic churches begin a sit-in to save their beloved churches.

It takes an iron will to spurn $300,000 pledged to preserve a church on the National Register of Historic Places, but Archbishop Alfred Hughes is firm in his plan to shrink the Archdiocese of New Orleans' footprint. Hughes' decision to turn back the money, along with minutes of closed meetings the archbishop held with local Catholic clergy, cast new light on last week's move by members of two shuttered parishes to occupy their churches in a 24/7 protest vigil.

On Sept. 29, in an effort to stave off her parish's announced suppression (canon law for closure), Our Lady of Good Counsel parish president Barbara Fortier wrote Hughes with news that a benefactor had offered "an initial deposit in the neighborhood of $100,000" for an endowment if the parish remained open.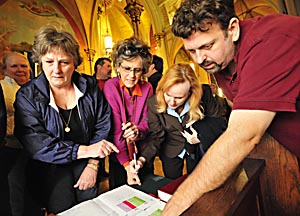 Parishioners at Our Lady of Good Counsel signed up last week for vigil duty as churchgoers planned to occupy the church that has been ordered to merge with St. Stephen — now called Good Shepherd — on Napoleon Avenue
Cheryl Gerber


'We feel confident that we can raise an additional $200,000 in cash by the end of the year," said Fortier, adding she had donors in the $10,000 to $20,000 range poised to contribute.

The initial donation would eliminate the parish's debt to the archdiocese, accumulated over years past, while the prospective additional funds would give the church a $200,000 endowment.

Three days later, Hughes wrote Fortier: "It would not be appropriate to set up an endowment fund unless [it] would be for the new merged parish" at St. Stephen, a larger parish on Napoleon Avenue. St. Stephen has been renamed Good Shepherd. The suppression order, part of a larger plan to close a total of 33 Catholic parishes and worship sites across the archdiocese and merge them with others nearby, calls for Good Counsel members to join the newly named Good Shepherd. Hughes also had ordered the suppression of two other Uptown parishes within blocks of each other: Blessed Sacrament and St. Henry. Blessed Sacrament was told to merge with St. Joan of Arc in the Riverbend area, while St. Henry's parishioners were instructed to merge with Good Shepherd.

'I don't think Hughes realizes how many of our parishioners are unwilling to follow orders like that," Fortier said by cell phone last Tuesday from inside Our Lady of Good Counsel Church. She spoke as she took a turn on a three-hour shift of vigil duty.

That morning, Civil District Court Judge Kern Reese dismissed a lawsuit by Fortier and several fellow parishioners. The suit alleged that Good Counsel's 1894 articles of incorporation gave the parish separate corporate status from the archdiocese. Reese, a 25-year member of St. Francis Cabrini parish, which also closed recently, remarked from the bench, "I understand your feelings but last Sunday's Mass said [in the Scripture], "Render unto Caesar.'" The issue at hand was solely one of corporate standing, Reese explained, and he said he had no choice but to rule for the archdiocese.

'Our Lady of Good Counsel no longer exists," church attorney Richard Bordelon asserted in oral argument. Because the lawsuit was filed days after the suppression order, Bordelon continued, "There were no parishioners. They don't exist any more." Those last words, repeated several times during Bordelon's argument, were uttered in the context of canon and corporate law and dealt with the question of whether the plaintiffs had legal standing to sue. They nonetheless rankled Good Counsel's faithful in the courtroom.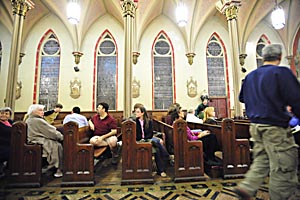 Members of Our Lady of Good Counsel occupy the church, which is on the National Register of Historic Places, to protest Archbishop Alfred Hughes' decision to close it.
Cheryl Gerber


One Good Counsel parishioner, Civil Sheriff Paul Valteau, himself an attorney, attended the hearing and expressed disappointment that Reese did not allow the case to advance to a full hearing. After the ruling, Valteau repeated the church's argument: "Parishioners are not members and hold no interest in the parishes." He paused. "We give money, we attend Mass. If we're not members, what are we?"

Later, Valteau told Gambit Weekly: "This is the only business in the free world that could get away with what they're doing and mismanage things as badly as they have and not be held accountable. Not even Wall Street is going to get away with it this time."

Continuing a longstanding practice, Hughes refused to be interviewed on this issue.

AS A RIVER OF EMOTIONS SWEPT THROUGH AFRICAN-AMERICAN CONgregants at nearby Blessed Sacrament's final Mass, parishioners at St. Henry and Good Counsel churches took their cue from the civil rights movement. Just as blacks once occupied lunch counters to protest segregation, some 80 parishioners from St. Henry and Good Counsel — most of them white, more than a few well-heeled — defied their outgoing pastors and Hughes in beginning a round-the-clock occupation, or vigil, at the shuttered churches.

The pastor at St. Henry (the parish of Ignatius Reilly in John Kennedy Toole's novel A Confederacy of Dunces) was Msgr. Henry Engelbrecht, who had given sermons entreating his parishioners to obey the closure order. After the last Mass, he locked the church from the outside. That turned out to be an act more symbolic than effective, as parishioners stayed behind (under the fire code, people must be able to open an exterior door without keys from the inside). The group organized rotating shifts that would have people in the church at all times — an ad hoc ritual reminiscent of the Perpetual Adoration of the Blessed Sacrament, in which devotees pray all hours of a day for a given period of time. As for Engelbrecht, he said he would take a month to close the rectory, part of a two-month sabbatical before a new assignment.

'Father Henry knew he could be exiled to some clergy equivalent of Siberia," says Alden Hagardorn, leader of the St. Henry's group. "That's not easy for any pastor, especially one in a wheelchair. Was I disappointed he didn't get behind us? Yes. Was I surprised? Not really."

LAST MONDAY, OCT. 27, PETER BORRE FLEW IN FROM BOSTON TO MEET with reporters and to speak to the parishioners who launched the vigil. Borre, a consultant on energy infrastructure and co-chair of the Council of Parishes in Boston, has spearheaded the vigil movement that spread from Boston to Pennsylvania, New York and now New Orleans.

In comparing the preemptive closure plans of the Boston and New Orleans archdioceses, Borre told the crowd: "There is a terrible parallel between what Wall Street has done to the economy and Washington and what the bishops have done to our church." He told the St. Henry's group that of the 83 parishes originally slated for closure in Boston, 25 had been "strong and viable."

'Like us!" interjected a vigil member, one of two dozen seated in chairs on the sidewalk outside the church in the twilight chill. Among them was J. Monque'D, the beefy blues singer. "I got a sister in New Hampshire and I been following Boston!" Monque'D roared.

In Boston, Cardinal Sean O'Malley relented under public pressure, closing 60 parishes instead of 83. There, the crisis was driven by an $85 million settlement of sex abuse cases. The New Orleans closures, according to the archdiocese, reflect a shortage of priests as well as massive uninsured property losses incurred during Hurricane Katrina. The Boston archdiocese released financial statements, but the local archdiocese has not. Archdiocesan spokeswoman Sarah Comiskey has denied that potential property sales from closed parishes played any role in the local plan, which was shepherded by Fr. Michael Jacques, pastor at St. Peter Claver.

According to the July 26 Clarion Herald, the official newspaper of the Archdiocese of New Orleans, the archdiocese projects a loss of 18 priests in the next five years, which would leave 153 priests to cover a combined total of 121 parishes and missions.

Gambit Weekly obtained minutes of a Feb. 26, 2007 meeting that Hughes held with his priest council to discuss the closure plan. The minutes suggest that the plan was initially drafted without a financial overlay. "The whole plan is a pastoral plan that deals with the parishes, social service and the schools that will be looked at again at the end of April," the minutes state at one point. "Part of the layered look involves Mr. [John] Eckholdt" — the archdiocese's chief financial officer — "looking at the financial pieces to see what it's going to cost us to put this plan into effect and what's going to happen with all the buildings and real estate involved."

The minutes are clear. Hughes and Jacques foresaw "a layered look" at real estate and "financial pieces" after the decision was made to shutter Good Counsel and St. Henry — two parishes generating a healthy cash flow. The minutes make no reference to formal research, consultant or advisory reports, or cost-benefit analysis, and they make it clear Hughes wanted to minimize "media coverage" of the process:

'The Archbishop asked for the strictest of confidentiality to avoid sabotaging the process with media coverage before the plan is finalized. If forced to deal with damage control, the fear would be that final decisions could not be made in the atmosphere that they would want to be made."

'YOU HAVE DONE SOMETHING REMARKABLE IN CATHOLIC AMERICA," Borre told the St. Henry members. "Right here, right now, for the first time, some people are saying, "These are our own parishes, and we will protect our communities from the depredations of our appointed bishops.'" Boston police have refused to intervene against parishioners on vigil. So has NOPD, says Hagardorn.

The nine Boston parishes that began their vigil in 2004 started with far fewer people than those in New Orleans, Borre added. Five of those parishes have been reinstated in some capacity by Cardinal O'Malley, whom Borre described as a man worn down by an array of problems he inherited from the former cardinal, Bernard Law, who resigned at the height of the abuse crisis, leaving a financial mess for his successor to resolve.

Meanwhile, the New Orleans archdiocese must keep utilities on at the suppressed churches for reasons of insurance, though cash flow from Sunday collections has halted. The archdiocese has parish bank accounts, but not the special funds both parishes raised for the vigil movement.

The utility bill at Good Counsel, a much larger church than St. Henry, runs $1,500 a month. The $20,000 in parish funds at the time of suppression were designated to "follow" the parishioners to Good Shepherd. If the vigil lasts a year, the archdiocese will drain the $20,000 and have to pay the Entergy bill from its own coffers.

Will the archdiocese tap the $20,000 to pay Entergy?

Comiskey responded in an email: "We have said the net proceeds after the maintenance costs at the parish are met will follow the parishioners. As I understand it, the archdiocese will assume the costs and the amount will go against an account for Our Lady of Good Counsel which will be made right once the property would generate income.—I cannot say specifically whether those funds on deposit will immediately follow or those funds on deposit will be used to cover those costs. I can say that if those funds were to be used, if there is excess income, those funds would be replenished."

In other words, after the closed church realizes "excess income" — possibly by being sold — the proceeds will include repayment of the Entergy bills.

'The elephant in the room in many dioceses is finances," Borre told the Good Counsel group later that night. The day before, at the final Sunday Mass, the archdiocese sent a locksmith late at night to change the locks, but one of the vigil members hid inside the church, and unlocked it from the inside.

THE NINE BOSTON PARISHES THAT STARTED VIGILS ARE NOW DOWN TO four, Borre told the crowd at Good Counsel. "The vigil started four full years ago in October 2004. Think about this, four years and two weeks — night and day. There's never been a Catholic resistance movement in America that has had this breadth. The bishops tell us the closures are because of demographics" — smaller parishes unable to sustain themselves, too few priests.

'If you look behind the curtain, it's a combination of mismanagement, favored law firms and insurance firms, so much encrusted stuff that you can put on Catholics in the pews, and load on top of that the sex abuse cases. And the response of bishops? Sell off a few parishes."

After the meeting, some 50 people began signing up for shifts, among them Dr. Thomas Ryan, a surgeon who showed up in scrubs; Loyola University staff photographer Harold Baquet, who is recovering from cancer; urban planner Larry Schmidt, a former high-ranking City Hall staffer; and the novelist Poppy Z. Brite.

And the vigil began.