Ex-Archbishop Admits He Put Abusive Priests in Jobs
Weakland's deposition is part of sex case against Milwaukee archdiocese

By Marie Rohde
Milwaukee Journal Sentinel
November 12, 2008

http://www.jsonline.com/news/milwaukee/34335169.html

Video

Retired Archbishop Rembert Weakland admitted in a video deposition released Wednesday that he transferred priests with a history of sexual misconduct back into churches without alerting parishioners.

The former archbishop acknowledged that he did so because "no parish would have accepted a priest unless you could say that he has gone through the kind of psychological examination and that he's not a risk to the parish."

While similar allegations have been made for years as the scandal rocked the Catholic Church across the country, Weakland's statements give a rare glimpse of how a top church leader dealt with allegations of sexual misconduct by priests.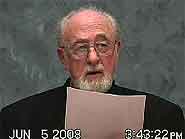 A lawyer has released portions of a video deposition taken in June of retired Milwaukee Archbishop Rembert Weakland.


"I have never heard a bishop discuss openly the inner workings of this essentially secret handling of sex abuse cases," said Peter Isely, a spokesman for SNAP, a national support group for victims of clergy sex abuse. "I haven't seen anything like this anywhere in the country."

A church spokesman said Weakland's comments should not be broadly applied.

"Archbishop Weakland is able to comment on what he knew, but many if not all of those involved in these cases are dead," Jerry Topczewski, speaking for the archdiocese, said Wednesday. "We'll never know fully what happened or the intent of these people and their actions that date back 20, 30 and 40 years."

The release of the heavily edited portion of Weakland's deposition, which was taken in June, came in response to a contention last month by the Archdiocese of Milwaukee that the deaths of key people involved in the church's coverup of sexual abuse allegations had thrown into question the fairness of a pending trial, and that if the archdiocese lost the pending cases, it could face bankruptcy.

Jeffrey Anderson, a lawyer representing those suing the church, said Weakland's comments vividly show that the trial would be fair because Weakland's testimony showed that a coverup existed.

David Muth, a lawyer representing the archdiocese, said Weakland's statements do not change what is at the heart of the case: Is it appropriate to bring a case to court after decades have passed and many of those involved have died?

"Memories fade," Muth said. "That's why we have a statute of limitations."

Weakland, who has largely been out of the public eye since he retired in 2002 in the midst of another scandal, was questioned under oath for more than a day by Anderson. Portions of that deposition were released - a common practice in court cases - in which Weakland acknowledged that he never reported any suspected abuse while he headed the local church. He also testified that he never directly asked accused priests whether allegations were true and that he never discussed what he knew about instances of sexual abuse with his successor, Archbishop Timothy Dolan.

The war of words is a side skirmish in a lawsuit, being fought in the courtroom of Milwaukee County Circuit Judge Jean DiMotto, in which seven men and women contend they were assaulted by clergy decades ago.

The cases are expected to go to a jury trial in June or July 2009.

The cases are going to trial because the Wisconsin Supreme Court ruled last year that the church could be sued by victims on fraud charges if they could show that the church knew about the misconduct and deliberately attempted to cover it up. In a ruling on the cases in her court, DiMotto dismissed actions against the church's insurance carrier, saying coverage did not apply to intentional acts.

That means that if the church loses in DiMotto's court, it will bear the full brunt of any financial award. John Marek, chief financial officer of the archdiocese, said in a Web page article last month that such a decision could "push the archdiocese toward bankruptcy."

Anderson said he was releasing the video that was taken as a part of the court case to rebut arguments that the deaths of witnesses would affect the outcome.