Sexual Abuse Complaints Subpoenaed

By Paul Vitello
The New York Times

November 13, 2008

http://www.nytimes.com/2008/11/13/nyregion/13hikind.html?_r=1&ref=nyregion&oref=slogin

Since last year, when Assemblyman Dov Hikind invited his radio show listeners to discuss an explosive topic — sexual abuse of children in the Orthodox Jewish community — he says he has collected more than 1,000 complaints and the names of 60 accused sexual predators.

He has kept those stories under lock and key in his Brooklyn office, he says, because the people who said they were victims had sworn him to secrecy, fearful of becoming outcasts in a community where perceived troublemakers risk losing employment, housing and even marriage prospects.

But a prominent lawyer representing a half dozen former yeshiva students who say in a civil lawsuit that they were sexually abused by a teacher in Borough Park, Brooklyn, had Mr. Hikind served with a subpoena this week, demanding that he surrender those files.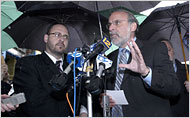 Assemblyman Dov Hikind asked radio listeners to talk about sex abuse, and they did.



Mr. Hikind has refused. "I will go to jail for 10 years first," he said on Wednesday.

The legal conflict has revealed a deep tension within the Orthodox community that has been reported in the Jewish weekly press, and has been the almost exclusive topic of discussion on some Orthodox Jewish Web sites like failedmessiah.com and unorthodoxjews.blogspot.com in the months since Mr. Hikind brought up sexual abuse.

"I've been shocked and overwhelmed at the magnitude of the problem," said Mr. Hikind, an Orthodox Jew and a Democrat who represents the predominantly Orthodox community of Borough Park.

The victims have come to his office in a steady stream to tell their stories, he said. "Abusive teachers and rabbis in the schools," he said. "Pedophiles on the streets. Incest in the home."

Michael G. Dowd, the lawyer who had Mr. Hikind served with the subpoena, has been a leading advocate for plaintiffs who say they were abused by Roman Catholic priests. He represents six men who say they were abused by Rabbi Yehuda Kolko, a teacher at Yeshiva Torah Temimah in Brooklyn. Rabbi Kolko, who was charged with sexual abuse in 2006, pleaded guilty to a lesser charge and has left the school.

Mr. Dowd's subpoena demands that the assemblyman turn over not just complaints that Mr. Hikind may have received against Rabbi Kolko, but "any and all reports of sexual abuse at any yeshiva and/or by any rabbi or employee of a yeshiva in New York City." Mr. Dowd said they were crucial to proving his clients' contention that sexual abuse was commonplace and routinely covered up by administrators in yeshivas.

He described Mr. Hikind's refusal as "misguided." While he said that he planned to have the subpoena enforced, he also said that he understood the reluctance to cross the powers that be in the Orthodox community. "The lead rabbis have the kind of power to shut people up that the Catholic Church had 50, 60 years ago," he said.

Mr. Hikind said that every complaint he received was in complete confidence, with the understanding that "under no circumstances would their names be known in the community."

"There is no way in the world, when people have come to me and spilled their hearts out to me, and shared the most intimate and private things with me, hoping I will do something to address the larger, overall issue, that I would ever betray their trust," he said.

Mr. Hikind said he was responding to talk in the community about unreported sex abuse when he decided to devote three shows in a row to the topic on his weekly radio program, which is broadcast Saturday nights on WMCA-AM (570). The response was immediate and broad, coming not only from Brooklyn but from upstate New York and New Jersey as well.

He has been trying to enlist leaders of the Borough Park community to help deal with the problem, with mixed success. "There is a cultural taboo about this kind of thing, and especially about going to secular authorities with sexual abuse issues," he said.

In September, a clinical psychologist who initially agreed to head a task force on the issue, Rabbi Benzion Twerski, resigned after a week. In a letter to a Jewish weekly newspaper, he said he left under pressure brought by his children, who told him they were made to feel "shamed" by his participation.

Mr. Hikind said that of all the people who said they had been victims, "99 percent would not go to the police under any circumstances — that is just the reality."

But Joel Engelman, 23, who grew up in the Orthodox community of Williamsburg, Brooklyn, and who helped found a group of victims called Survivors for Justice, said that while "well-intentioned," Mr. Hikind had a classic misunderstanding about sexual predators that is embedded in insular communities like the Catholic priesthood or the Orthodox world. "The community cannot police itself," he said. "This has been shown again and again."

In his own case, Mr. Engelman said, a complaint he brought to the attention of administrators at the United Talmudical Academy against a teacher who sexually violated him when he was 8 years old led to the teacher's brief suspension and subsequent reinstatement. Mr. Engelman has since brought a civil suit against the teacher and the school.

Prof. Marci Hamilton, a visiting professor at the Yeshiva University School of Law and an expert in sexual abuse by religious leaders, said Mr. Hikind's refusal to turn over the names of alleged predators, if not his entire case file, was "outrageous."

She said that Charles J. Hynes, the Brooklyn district attorney, "should already have convened a grand jury" to investigate.

Jerry Schmetterer, Mr. Hynes's spokesman, said, "If someone has information about a sex crime, he or she should bring that information to our sex crimes unit, and we will investigate what needs to be investigated."