Diocese Repudiates Catholic Priest Who Said Obama Supporters Should Not Seek Communion
A Roman Catholic Priest in South Carolina Is Being Reined in by His Own Diocese for Saying Parishioners Who Voted for Barack Obama Should Not Seek Communion until They Have Repented.

By Joseph Abrams
Fox News
November 14, 2008

http://elections.foxnews.com/2008/11/14/catholic-priest-pummeling-obama-voters/

[with link to the church bulletin]

A Roman Catholic diocese in South Carolina officially repudiated a priest Friday after he told his parishioners that people who voted for Barack Obama had supported the "intrinsic evil" of abortion and should not seek Communion.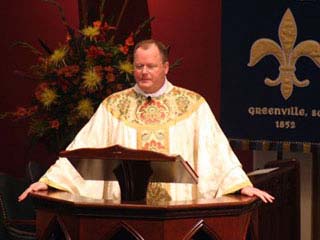 Father Jay Scott Newman, a Catholic priest in Greenville, S.C., has come under fire for telling parishioners that people who voted for Barack Obama should not seek Communion.



Father Jay Scott Newman, writing in the weekly bulletin of St. Mary's Catholic Church in Greenville, S.C., called Obama "the most radical pro-abortion politician ever to serve in the United States Senate or to run for president."

"Voting for a pro-abortion politician when a plausible pro-life alternative exits constitutes material cooperation with intrinsic evil, and those Catholics who do so place themselves outside of the full communion of Christ's Church and under the judgment of divine law," Newman wrote.

Exit polls suggested that a majority of Catholics voted for Obama in last week's election.

Click here to read the church bulletin .

Newman said he would not deny anyone communion because of their political choices, but he told his flock of 2,700 families that they should first seek penitence if they voted for Obama, who supports abortion rights. The Catholic Church considers abortion an act of murder.

"Persons in this condition should not receive Holy Communion until and unless they are reconciled to God in the Sacrament of Penance, lest they eat and drink their own condemnation," Newman wrote.

That view was rejected Friday by the Newman's own diocese.

"Father Newman's statements do not adequately reflect the Catholic Church's teachings. Any comments or statements to the contrary are repudiated," said Msgr. Martin Laughlin, administrator of the Charleston Diocese, which is currently without a bishop.

Catholic dioceses in the U.S. have issued various rulings on whether Catholics who support abortion can receive communion.

"The Church hasn't said as a body what this individual priest has said, namely that anybody who has voted for Barack Obama shouldn't go to communion," said Father Jonathan Morris, a Catholic priest and FOX News contributor.

"If anybody voted for Barack Obama because he is pro-abortion, that would certainly be an objective moral wrong," he said. "There are a lot of discretionary areas in politics on which two good Catholics could differ, but the respect for life is not one of these."

Newman and his church have received a thunderous response -- and more than 4,000 e-mails -- both praising and deriding the priest for his comments.

At home in his parish, however, church members said the response has been mostly positive.

Chris Stansberry, the youth director at the church, said that the community had been "very supportive" of Newman's stance. "At St. Mary's we follow the teachings of the Church, which are very pro-life," he said. "I think everybody here in the parish is [behind him]," he told FOXNews.com.

Newman declined public comment Friday, but he wrote in a letter to his church that he had been misunderstood on matters of doctrine and was disappointed in the reception his words had gotten in the press.

"I knew that this might turn into a very ugly brawl designed to make me look like a raving lunatic seeking to coerce voters through spiritual blackmail rather than a shepherd warning his flock about the spiritual danger of supporting abortion, whether directly or indirectly," he wrote. "And my suspicion proved well-founded."