Pedophile Priests at Large in New Jersey. James Tully in Wayne and Robert Petrella in North Arlington. Survivors Alert Neighborhoods

By Kay Ebeling
City of Angels

November 14, 2008

http://cityofangels13.blogspot.com/2008/11/pedophile-priests-at-large-in-new.html

Pedophile priest Robert Petrella got an eighteen month sentence, convicted of unnatural and perverted sex practices against children. He served nine. The pedophile priest finished parole in Maryland last month and David Fortwengler, whose testimony as one of the victims helped get the conviction, followed his tracks, as Petrella moved in with his mother, at 106 Ilford Ave, North Arlington, New Jersey.


Around the same time last October, as Bill Nash packed for his trip to confront his perpetrator in Italy, the ephebophile priest James Tully (recent photo at left) came back back to the United States, and now lives at the Xaverian Religious Order headquarters at 12 Helene Court in Wayne, New Jersey.

Both Fortwengler and Nash produced flyers to hand out to people where their perpetrators now live in New Jersey. Those flyers are copy and pasted below, first Bill Nash's flyer about James Tully:

Protect your kids

Sexual Predator just moved here

Who we are?

We are victims of childhood sexual abuse by clergy.

Why we are here?

We want to protect the vulnerable and heal the wounded. We are worried about a serial sexual predator who recently moved here from Italy.

Who is this molester?

Father James Tully is a Xaverian Missionary Priest. He abused boys in Boston in the 1970s; a seminarian in Wisconsin in the 1980s; and several more boys in Milwaukee in the 1990s. Tully was finally arrested in 1991, sent to a treatment center, the put on probation.

What have Catholic officials done?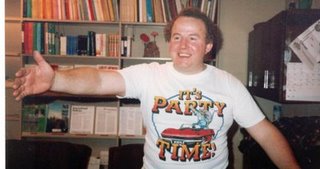 Fr. Jim Tully at large in New Jersey.
Photo by


Even after Tully was arrested and was convicted, Church authorities protected him and quietly moved him, first to Sierra Leone, then to New York, and eventually to work at the Vatican itself! Now they moved him from Italy to the Order's headquarters at 12 Helene Court in Wayne, New Jersey.

What can you do?

• Learn more about Tully.

• http://www.dallasnews.com/sharedcontent/dws/news/longterm/stories/close_to_home.5f10ac9b.html

• Protect your children, keep them away from his home.

• Tell your friends and neighbors about Tully.

• Contact law enforcement authorities immediately if you see or hear any suspicious behavior by Tully or his colleagues.

• Call Tully's supervisors. Prod them to publicly disclose whether they have housed or are housing other child molesting clergymen nearby.

• Contact the Patterson diocese and ask them to announce Tully's presence here so parents will be warned and kids will be protected.

• Let us know that you have taken these steps.

Contacts:

Wayne Police Department 973-694-1800

Road to Recovery 862-368-2800

SNAP, Survivors Network of those Abused by Priests) 877-762-7432 - P.O. Box 6416, Chicago, IL 60680-6416 http://www.snapnetwork.org/

*********************

And here is David Fortwengler's flyer about Robert Petrella:

Convicted pedophile ex-priest, living in North Arlington community.

Robert Joseph Petrella of 106 Ilford Ave., has been convicted four times in Prince Georges County, Md. for Unnatural and Perverted Sex Practices against children. The Archdiocese of Washington, his former employer, has admitted at least 25 known victims.

Due to a loophole Maryland law he is not required to register as a sex offender.

In April of 2004, ex-priest Robert Petrella was released from a Md. Prison., In May of 2007 he was released from his probation with the State of Maryland. Because he was convicted of crimes that occurred before Megan's Law was passed, he is not required to register as a sex offender.

Legislation in Maryland to close this loophole failed last spring, but will be re-introduced in January by

Del. Christopher Shank.

Please contact him at

christopher.shank@house.state.md.us

to support passage of HB761.

Petrella was defrocked in 2003 by Cardinal Ratzinger and Pope John Paul. Information about his past is available at http://bishopaccountability.org/

********************

END OF FLYERS

********************

Nash had tracked Tully to Vicenza, local media ran with the story that a pedophile was in the village. Nash goes to Italy in late November to speak at a pedophile conference in Vicenza, the village where Tully had been dwelling. (See September 15 post here at City of Angels Network.)

Nash said recently: "I was concerned that if I didn't open my mouth, Tully was a danger to someone else. I was told he went to Rome to work in the archives with no contact with young people. Then the Dallas Morning News did the Runaway priest stories and I realized the Vatican was becoming a refuge for pedophiles.

"I'm not going to stop having press conferences," Nash said.

Fortwengler said recently: "I got to see Robert Petrella convicted of unnatural and perverted sex practice. I know I'm fortunate, compared to other survivors, because I got to see him convicted.

"Robert Petrella is the same as all of them, a serial predator confident that nobody would ever say anything. Three people did, and that was enough to get him convicted in Maryland. Now I don't have to talk about it anymore. All the details of the crime are public record in court documents."

However, in Maryland, where Petrella was convicted, any sex crimes from before Sept. 1995, when the sex offender registry was created, do not have to register.

Coming up in January is a new Maryland law that would fill the sex offender registry gap and force Petrella to add his name. Fortwengler will be there to testify.

***********************

"David Fortwengler is a man on a mission. He traveled by car from his home in Gaffney, South Carolina on Saturday, Sept. 6 and stayed at a motel in Clifton until Monday, Sept. 8.

"His quest – to let the residents in North Arlington, especially those on Ilford Avenue, know that defrocked priest Robert Joseph Petrella, the convicted predator who raped him when he was a 11-year-old altar boy, was living in their midst incognito.

"Petrella, 70, is reported to be staying with his mother Josephine at 106 Ilford Avenue where he grew up. A relative at the residence named Joe said Petrella'only visits.'

"Petrella is not registered as a sex offender in this state or any other he has lived in."

The Observer

October 2nd., 2008

*****************

"I remember when we took that picture, back in the seminary," Nash said. "Some college kids gave him that t-shirt.

More about both these priests at http://bishopaccountability.org/ under P for Petrella or T for Tully. Or just start from A and read about all five thousand and counting pedophile priests with allegations credible enough for them to make the bishop accountability database.

Then tell me pedophile priests in the Catholic Church were only a tiny minority.