Catholic Groups Decry Fr. Osborne's St. Peter Duties
Former Vianney Head Target of 2006 Civil Suit Alleging Sexual Misconduct

South County Times
November 15, 2008

http://www.southcountytimes.com/Articles-i-2008-11-14-82608.113117_ Catholic_Groups_Decry_Fr_Osbornes_St_Peter_Duties.html

Catholics with Voice of the Faithful and with a clergy sex abuse watchdog group held a press conference Tuesday in Kirkwood decrying what they called "a dangerous situation" at St. Peter Catholic Church.

That situation involves pastoral duties given to Father Robert Osborne who was the target of a 2006 civil suit alleging sexual misconduct with a student at St. John Vianney High School. The Marianist Province and the high school reached a settlement in that lawsuit in 2007.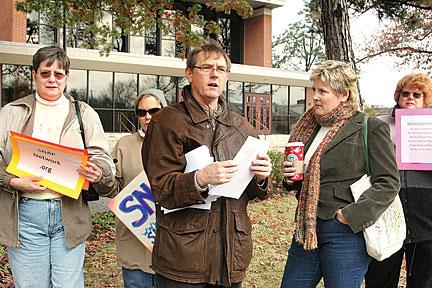 From left, Mary Fischer, Mary Ellen Kruger, David Clohessy, members of Survivors Network of those Abused by Priests (SNAP); Linda Briggs-Harty; and SNAP member Brenda Pavlik at a press conference on Tuesday at St. Peter Catholic Church in Kirkwood. photo by Diana Linsley



Linda Briggs-Harty, a former public relations employee with St. John Vianney High School, said she was upset that Osborne now says Mass at St. Peter and also makes appearances on the campus of Vianney.

"Adherence to the U.S. Bishops' Charter for the Protection of Young People necessitates that we err on the side of caution in allowing credibly accused priests a public ministerial role," said Briggs-Harty, a Webster Groves resident.

"Furthermore, a third victim has come forward as well, albeit anonymously at this point, to demand Fr. Osborne's removal at St. Peter," added Briggs-Harty, who described herself as a "lifelong Catholic, not a rebel Catholic."

Briggs-Harty said she became alarmed over Osborne's presence at Vianney in light of past criminal allegations and the civil lawsuit settlement. She said she pulled her son out of the high school when Vianney officials seemed to pay no attention to her concerns and she resigned her position at the school.

Briggs-Harty said she felt compelled to bring her concerns to Survivors Network of those Abused by Priests (SNAP). In Kirkwood on Tuesday, David Clohessy of SNAP praised Briggs-Harty as a whistle-blower who learned "too much" while employed at the school.

Clohessy said a third alleged victim of Osborne has been talking to Kirkwood Police about actions which took place when he was a student at Chaminade High School in 1974-75.

Kenneth Chackes, an attorney with Chackes, Carson & Spitzer, who represented the alleged victim and his father in the 2007 civil settlement, said the Marianists, Vianney and the St. Louis Catholic Archdiocese have been violating the spirit, if not the legal wording, of the 2007 settlement.

"The Marianists and Vianney agreed that they would follow the rules of the Archdiocese, and these rules say there is an obligation to protect God's children and put them first, and to follow the church code of conduct when it comes to what is required of clergy when teaching youth.

"The father and the victim both expected better out of Vianney and the Marianists when it comes to Osborne," said Chackes. "They expected that he would be told to stay away from the high school, although there is nothing in the agreement that absolutely prohibits him from visiting there."

Chackes echoed Clohessy of SNAP in arguing that Vianney and the Marianists have, at best, exercised poor judgment in allowing Osborne to be on the campus of the all-male school near the border of Kirkwood and Sunset Hills.

In a statement released Tuesday by the Marianist Province, Brother Stephen Glodek noted that in February 2006, Osborne stepped down as president of Vianney after an allegation had been made. He stepped down because of the high profile nature of the situation and the possible negative impact on the school, according to Glodek.

"From that time until June 2007 – when the civil case was successfully mediated and the criminal investigation had ended for lack of evidence – Fr. Osborne was at Vianney only during non-school hours and with the express knowledge of school officials," Glodek said. "He was there to clear out his belongings."

"Since June 2007, Fr. Osborne is a Marianist priest in good standing, which means he is allowed to celebrate Eucharist and other sacraments," added Glodek. "Since that time, we are not aware of any civil, criminal nor church restrictions placed upon Fr. Osborne."

Earlier this year, the St. Louis-based Marianist Province agreed to help pay $4 million to settle 23 civil lawsuits brought against Brother William "Bill" Mueller, who taught at Vianney and Chaminade high schools. He also taught in Pueblo, Colo., and San Antonio, Tex.

Mueller was accused of sexually molesting students after asking them to engage in psychological experiments with him. Mueller was employed at Vianney in 1984, but was subsequently fired in 1985 after complaints about his behavior around students.