Victims of Sex Abuse Protest at Saint Paul

By Jennifer Green
Ottawa Citizen
November 19, 2008

http://www.canada.com/ottawacitizen/news/city/story.html?id=086d5fd2-72b9-4362 -88f8-90054fa956c7

Victims of clergy sex abuse protested outside Saint Paul University yesterday, angry that a priest convicted of molesting an eight-year-old would get $60,000 to study canon law.

The nine or so demonstrators with the Association of Victims of Priests hoisted their signs as they huddled into the icy wind on Main Street. One carried a crucifix with "Sex Abuse" on it; another called for all convicted pedophiles to be booted out of the church.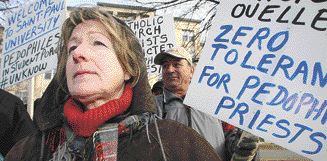 France Bedard, who says she was raped by a priest at 17, organized yesterday's protest after a convicted molester was given $60,000 to study canon law.
Photo by Julie Oliver


Unbeknownst to them, Rev. Philippe de Maupeou left Ottawa in September, quitting his courses after just a few weeks. He now lives in a supervised ecclesiastical residence under the jurisdiction of the Montreal archdiocese.

"It's better than just cutting him loose," said Rev. Alain Faubert, assistant to the vicar general in the archdiocese. "He can never do public ministry again."

Father de Maupeou pleaded guilty in 2006 to touching an eight-year-old on the breast and genitalia during a camping trip. The 48-year-old priest served in Montreal's Plateau Mont Royal district with Communauté du Pain de Vie, a religious commune including priests and families who work with the poor.

After the child came forward, years after the incident, Father De Maupeou was not allowed to be near children unsupervised, nor could he live with his commune.

However, Carlo Tarini, spokesman for the victims, said the church still doesn't understand how serious the offences are. Jean-Claude Cardinal Turcotte of Montreal told a radio station that Father de Maupeou was not a pedophile; it was more an "error of comportment," he said.

France Bédard, who founded the victims' association and organized yesterday's demonstration, said in an e-mail after she found out the priest had left Ottawa: "Are Canada's bishops so hard up for recruiting priests that they can't readily fire convicted pedophiles and other sex abusers?"

Ms. Bédard has launched a civil action against the church, saying a priest raped and impregnated her when she was 17. The priest died one month before he was to face criminal charges.