Priest Sentenced for Jogging Naked in Frederick

CBS 4

November 20, 2008

http://cbs4denver.com/local/jogging.nude.colorado.2.869497.html

[with video]

Video A Catholic priest convicted of indecent exposure will not serve any time in jail. A Weld County District Court sentenced Father Robert Whipkey to five years probation Thursday morning.

Whipkey will also have to register as a sex offender.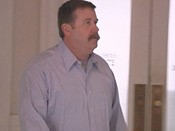 Rev. Robert Whipkey



During the hearing, he told the judge the publicity surrounding the case has been a hardship on him and his efforts to look for employement.

"Absolutely extreme, he was a Catholic priest. He no longer can preach and that is more than just a career, that's a calling. He's dedicated his life to that and now lost that and it is extremely painful," said Lee Harrell, Whipkey's attorney.

Whipkey is appealing his conviction. In court, he said his family has been wrecked by this ordeal.

The judge did order a stay of the sentencing until the appeal is decided.

Whipkey had served at parishes in Erie, Mead and Frederick. He was arrested in June of 2007 for indecent exposure when he was caught jogging naked near his home at the Frederick High School track.