SNAP Papers Downtown Jersey City Neighborhood with Fliers Accusing Priest of Past Sex Abuse

By Carly Baldwin
Jersey Journal
November 22, 2008

http://www.nj.com/hudson/index.ssf/2008/11/jersey_city_priest_accused_of.html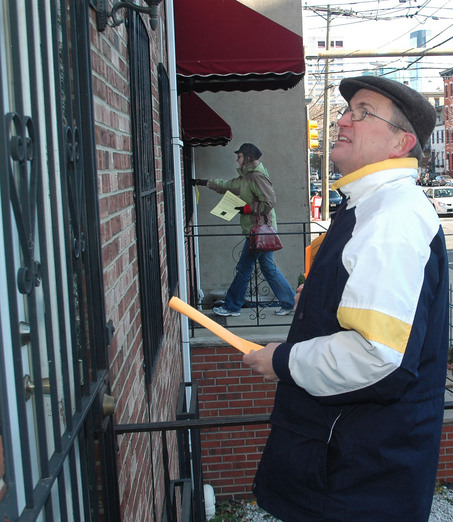 Survivors Network of Those Abused by Priests members the Rev. Robert M. Hoatson and Joelle Casteix hand out fliers to inform the Downtown Jersey City community that the Rev. Paul Daleo, who has been accused in lawsuits of sex abuse, lives in their neighborhood.
Photo by Byron Smith


"Hi, I just want to let you know there's a child molester living in your neighborhood."

That's what Joelle Casteix and the Rev. Robert Hoatson told people on the streets of Downtown Jersey City this afternoon.

Casteix and Hoatson are members of SNAP (Survivors Network of Those Abused by Priests), and they spent today alerting residents about the Rev. Paul Daleo, a Jersey City resident and Catholic priest accused of sexually abusing four boys more than 20 years ago.

"By exposing him, we are able to do what nobody did for us. We are able to chip away at the isolation," Casteix said .

Casteix, who said she herself is a victim of sexual abuse by a former teacher at her Catholic high school, travels the country alerting people about alleged sexual abuse by priests and other religious figures.

"We don't want what happened to us to happen to another child. It's a warning the community and putting the church on notice," she said.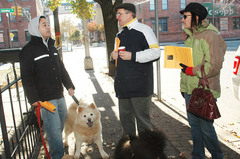 Omar Martinez reacts to the Survivors Network of Those Abused by Priests flier given out by the Rev. Robert Hoatson and Joelle Casteix of SNAP.
Photo by Byron Smith


Casteix and Hoatson covered the leafy blocks around Daleo's Monmouth Street home with fliers, alerting neighbors to the claims against the priest. They knocked on doors, stopped people walking their dogs and left the bright orange fliers on cars, featuring a black and white photograph of Daleo. Many were shocked to learn of the allegations; one woman said she knew Daleo.

Two men, now in their 30s, filed civil lawsuits in Delaware this year, accusing Daleo of sexual abuse, the SNAP members said. Two other men have also come forward accusing Daleo of abuse.

The men all say Daleo abused them while they were elementary school and high school students at St. Edmond's Academy, a private Catholic all-boy's school outside Wilmington where Daleo worked as a guidance counselor, vice principal and chaplain.

A message left at the school this afternoon was not immediately returned.

The alleged abuse took place in the mid-1980s and the statute of limitations to press criminal charges has since expired. But a recent state law in Delaware gave victims two years, from July 2007 to July 2009, to file civil lawsuits alleging past sexual assaults.

"The law recognizes that these people were abused as children and now as adults they have the opportunity to get justice," said Hoatson, a West Orange resident and Catholic priest who said he has been prohibited from preaching since he announced he was abused.

The lawsuits seek unspecified financial damages, dismissal of Daleo from the church and full disclosure by the Catholic church of the alleged abuse. Casteix and Hoatson accuse the Catholic church of protecting Daleo.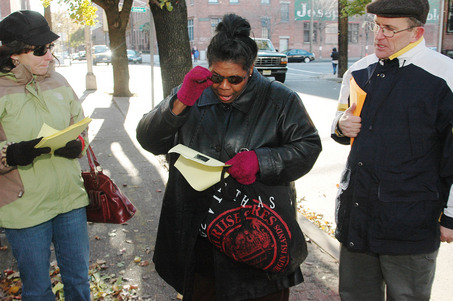 Jersey City resident B. Wilson, center, reacts to news from Hoatson, right, and Joelle Casteix, who told Wilson that an accused child predator lives in her neighborhood
Photo by Byron Smith


"He thinks he can live here in hiding; they think they can put him anywhere," Hoatson said.

Daleo has since left St. Edmond's.

According to Casteix, Daleo is a member of the Capuchin Franciscan Friars. A message left with a chapter of the friars was not immediately returned.

Daleo attends Holy Rosary Church at Sixth and Monmouth streets almost daily for Mass, Casteix said, after she papered the area around the church with the fliers.

A priest at the Holy Rosary who refused to identify himself said Daleo's name did not sound familiar.

Casteix said neighbors generally respond favorably to fliers she gives out.

"Residents are often grateful we told them," she said. "But when you go in front of a church and distribute fliers that says their priest did this, it often shatters people's milestones and their value systems -- this is how they've raised their children, this is the man who married them. It's very painful."

According to Casteix and Hoatson, Daleo is not preaching anywhere currently but is working privately, performing baptisms, funeral rites and weddings.

The Jersey Journal knocked on Daleo's door but was told by a neighbor that he wasn't home.