Former Pastor Gets Tiffin Assignment

Toledo Blade

November 21, 2008

http://toledoblade.com/apps/pbcs.dll/article?AID=/20081121/NEWS10/811210368/-1/NEWS

The Rev. Frank Murd, a Toledo diocesan priest who resigned as a parish pastor in April after admitting he fondled a man in a public hot tub, has been appointed chaplain to the Sisters of St. Francis of Penance and Charity in Tiffin.

The priest's new assignment was one of seven personnel appointments announced yesterday by Bishop Leonard Blair, head of the 19-county Toledo Catholic Diocese.

Father Murd, 67, was acquitted in June by Judge James Jensen of a misdemeanor charge of sexual imposition after a bench trial in Lucas County Common Pleas Court.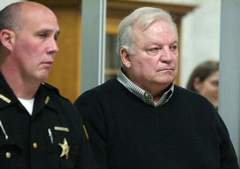 Murd



The judge said the prosecution failed to prove the priest's actions were offensive to his accuser.

Father Murd resigned as pastor of the 6,690-member St. Joseph's Parish in Maumee on April 8, the day after he admitted to Sylvania Township police Detective Jim Rettig that he fondled the 27-year-old man in the hot tub at the JCC/YMCA in Sylvania in March.

The priest underwent treatment at an out-of-state facility for "spiritual remedies" and "professional evaluation and counseling," the diocese said. Sally Oberski, director of communications for the diocese, said yesterday that Father Murd completed that treatment.

There are 112 nuns in the Sisters of St. Francis of Penance and Charity order, known as Tiffin Franciscans, who serve throughout northwest Ohio.

In other personnel appointments announced yesterday, the Rev. Raymond Fisher has been granted a temporary health leave; the Rev. Gregory Peatee has returned from a temporary health leave; Deacon Shaun Lowery was named intern deacon at Gesu Parish in Toledo, and Deacon Rene Gonzalez, Deacon Paul Morris, and Deacon William Ulmer have been granted senior status, or retirement.