Local Woman a Finalist in National Video Competition

By Chris Campbell
Suburban Journals

November 25, 2008

http://suburbanjournals.stltoday.com/articles/2008/11/26/jefferson/news/1126ndj-tube00.txt

Local woman a finalist in national video competition

When Barb Dorris was 6 years old, her mother ordered her to put on her "Mary Janes."

In a minor act of willful independence, Dorris chose another pair of shoes, a brown pair that matched her dress.

Feeling guilty over her disobedience, Dorris left through the back door quietly and went to church.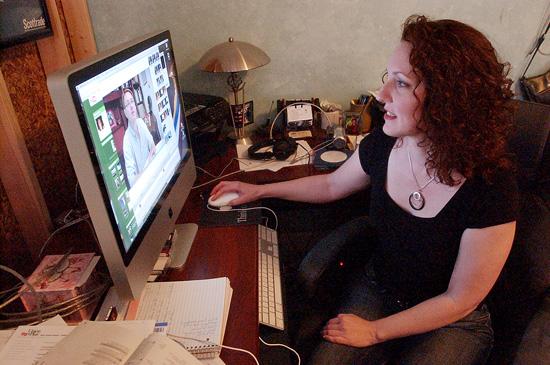 Kim Fischer of Crystal City is a national finalist in a YouTube and Pulitzer Foundation contest to produce short web documentaries.



Upon arrival, she was greeted by a priest, who told her she was an "evil, evil child."

The priest told Dorris he was sent by God to save her.

That "salvation" came in the form of sexual abuse.

In her 6-year-old mind, Dorris believed rape was the punishment for choosing "little brown shoes."

It's a harrowing tale - Dorris said the abuse continued unabated for seven years.

For years, she repressed the memories and moved on with life. She eventually took a job teaching in a Catholic school.

Then, Dorris said, it happened again - only this time it involved her students.

Overwhelmed by memories of her past and desire to help today's victims of abuse, Dorris became an outspoken advocate on their behalf.

That's how she met Kim Fischer.

Fischer, of Crystal City, had a family member suffer abuse at the hands of a priest.

While working with Dorris at the Survivors Network of those Abused by Priests (SNAP), she was amazed by her friend's iron will and remarkable persistence.

"Barb really impressed me with her passion and giving nature," Fischer said. "I really felt inspired by her."

Something of an amateur videographer, Fischer was on the popular video Web site YouTube and noticed a contest jointly sponsored by the site and the Pulitzer Foundation.

The contest, "Project:Report," was open to anyone with a video camera and a story to tell.

Fischer thought of Dorris.

"The first assignment was to profile someone in your community," Fischer said. "I called Barb and (SNAP director) David Clohessy and got started."

Fischer shot footage of Dorris recounting her tale of abuse and her work on behalf of SNAP.

After skillfully editing the footage down to three minutes, Fischer submitted the finished product to YouTube.

The result was a powerful paean to a woman who has not only overcome adversity, but used that adversity as fuel to help others.

"I wanted to get the message out that there is hope," Dorris said. "Kim did a great job delivering that message."

Amid shots of her working the phones, Dorris addresses the camera, telling children they need to understand they aren't alone. Adults will help them, they will believe them.

"She's an unsung hero," Clohessy said. "She works tirelessly behind the scenes. No one listens to more survivors."

Fischer was thrilled to discover she was selected by the Pulitzer Foundation as one of 10 national semifinalists.

"I was on pins and needles during the judging," Fischer said. "This is pretty new to me. I had only shot training videos, motivational speakers and a piece for my husband's blog. This was my first piece of journalism."

Clohessy and Dorris were touched by the results.

"Barbara and I were very moved by the final piece," Clohessy said. "It's an accurate and sensitive portrayal."

Fischer wasn't finished. All contest semifinalists were asked to submit a second video.

"They asked us to report on a local story with global impact," Fischer said.

Fischer shot a four-minute mini-documentary on controversial plans to build a $1 billion iron smelter in her hometown.

The subject is a testy one, pitting neighbor against neighbor and often splitting votes on the City Council.

"I tried to focus on the feelings of people in the town," Fischer said. "One side is concerned about jobs. The other is worried about pollution."

The resulting video, "Factory Town Blues," is a balanced look at a polarizing and complex issue.

It was also a winner.

Fischer is now one of five finalists in the competition, which has drawn more than 1 million video views on YouTube.

With the field narrowed, she's preparing the third and final assignment: a collaborative piece with an under-represented community.

"I've learned so much," Fischer said. "If I could do this full-time I would definitely take that opportunity."

Fischer is also quick to share the credit.

"I had great, really eloquent subjects who told their own stories. People relate to that."

Want more?

View Kim Fischer's videos on YouTube.

http://www.youtube.com/watch?v=DK4PRHyIz-M

http://www.youtube.com/watch?v=CTA5HGuuddY&feature=PlayList&p=64C3E347378772F9&index=0