U.S. Court Allows Abuse Case Vs. Vatican

By Suzanne Sataline
Wall Street Journal

November 25, 2008

http://online.wsj.com/article/SB122756420187954231.html

A federal appeals court has permitted a lawsuit over alleged sexual abuse to proceed against the Vatican, creating potential liability for the seat of the Roman Catholic faith for the activities of Catholic clergy in the U.S.

Monday's ruling, issued by the U.S. Circuit Court of Appeals in Cincinnati, marks the first time a court at so high a level has recognized that the Vatican could be liable for the negligence in sexual-abuse cases brought in the U.S.

The ruling is seen as a breakthrough by those allegedly abused by priests. Investigators and grand juries have found several instances where the church failed to report alleged abusers and covered up alleged misdeeds to protect them.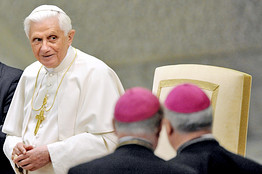 Pope Benedict XVI, Sunday, at his studio at the Vatican, which could be liable for negligence after a U.S. appeals court let a sexual-abuse suit proceed.



Jeffrey S. Lena, the attorney for the Holy See, said he was not "presently inclined" to ask the U.S. Supreme Court to review the decision.

It remains to be seen whether the Vatican, which is a sovereign state recognized by the U.S. government, will make further arguments that it is immune from U.S. civil proceeding.

Catholic dioceses in the U.S. have paid out at least $1.5 billion to alleged abuse victims, most of this since the scandal broke open nationwide in 2002.

The appeals court found that the church government may be held liable for actions taken in the U.S. based on the Vatican's policies or directives.

"What the court has allowed us to do is proceed against the Vatican for the conduct of the U.S. bishops because of the bishops' failure to ... report child abuse," said William F. McMurry, the attorney for three men who claim they were abused as children by priests in the Louisville, Ky., archdiocese. He is seeking class-action status in the district-court case.

The ruling marks the first time that a federal appeals court recognized that the Vatican could be liable under the Foreign Sovereign Immunities Act, a 1976 law that governs when a foreign nation or its agents can be sued, said Marci Hamilton, a constitutional-law scholar who is part of the legal team in the Louisville case.

"If someone can crack that barrier of immunity, it opens the door to other claims against the Catholic church," says Jonathan Levy, a Washington, D.C., attorney who represents concentration-camp survivors in a suit against numerous parties including the Vatican bank. The Vatican, in that case, prevailed in its claim of sovereign immunity.

Mr. Lena, the lawyer for the Holy See in the Louisville case, said Monday's ruling is a small step and one that is far from establishing whether Vatican policy contributed to thousands of incidents of abuse that have been alleged over several decades. "We're miles away from liability," he said. The ruling is "very incremental."

One of the central pieces of evidence in the case is a 1962 memo, issued by the Vatican and disclosed by reporters in 2003, which directs Catholic bishops to keep silent about claims of sex abuse. The document was approved by Pope John the 23rd.

Monday's ruling will allow the plaintiffs' case to proceed in U.S. District Court in Louisville. Among the legal questions yet to be decided in the case is whether U.S. bishops are employees of the Vatican, and whether they acted on the Holy See's orders.

—Nathan Koppel contributed to this article.

Write to Suzanne Sataline at suzanne.sataline@wsj.com