Church out to Amplify "the Call"

By Dan Horn
Cincinnati Enquirer

December 1, 2008

http://news.cincinnati.com/article/20081201/NEWS01/812010312

The Rev. Kyle Schnippel places his prayer book on the table and takes a seat, waiting for the future of the Catholic Church to arrive.

It's an early Monday morning in November and Schnippel is among dozens of job recruiters preparing to make a pitch to students at La Salle High School. He hopes to find a few interested in the priesthood, but he knows he could be in for a long morning.

He's competing for the teens' attention with engineers who have built high-tech equipment, businessmen who run multimillion- dollar companies and military recruiters with cool gear and tales of adventure.

"They have better toys," the priest says of his competition.

But if anyone can convince teenage boys to consider a lifetime of celibacy, prayer and a $24,000 salary, it's Schnippel.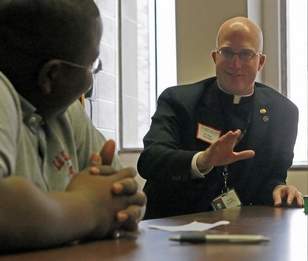 The Rev. Kyle Schnippel, vocations director for the Archdiocese of Cincinnati, talks to students at La Salle High School, including Malik Shabazz, about entering the priesthood.



At 31, he's one of the youngest priests in the Archdiocese of Cincinnati. He talks easily to teenagers, carries a BlackBerry and once earned the nickname "Rock Star Priest" from high school students impressed by his youth and shaved head.

Schnippel is part of a younger, more aggressive generation of priest recruiters determined to expand the ranks of a profession that in recent years has diminished in size and prestige.

Recruiters often travel hundreds of miles a week to schools and job fairs in search of young men who feel "the call" to the priesthood but need some encouragement to heed that call.

They use time-honored methods, such as heart-to-heart talks and meetings with parents, while at the same time embracing the modern tools of a corporate recruiter: PowerPoint presentations, informational videos and glossy handouts vetted by focus groups.

They also bring an unabashed passion to a job the Catholic Church had, until recently, taken for granted.

"I can't emphasize this enough," Schnippel told the La Salle students that morning. "I love being a priest. I love what I do."

Schnippel's mission - and the mission of recruiters like him across the country - takes on greater urgency as a worsening shortage of priests threatens parishes, programs and the spiritual life of the American church.

The number of Catholic priests in the United States has fallen by about 30 percent since 1965, from about 58,000 to 40,000, while the nation's Catholic population has risen by 40 percent. In the Archdiocese of Cincinnati, the number of priests has tumbled from 466 to 278 in less than four decades.

The trend has forced the church to trim programs, move priests out of Catholic schools and end the practice of assigning almost every parish a full-time pastor.

The clergy abuse scandal made the recruiters' job tougher, but the numbers had been falling for decades as smaller and increasingly wealthy Catholic families opted to send their sons to college instead of the seminary.

Cincinnati's next archbishop, the Most Rev. Dennis Schnurr, has said reversing the decline will be a priority when he takes over sometime next year. He and other church leaders know they can't sit back and wait, as they did in the 1950s and 1960s, for young men to enroll in seminaries already flush with students.

"I don't think there's any seminary that doesn't have some kind of active recruitment plan in place," said the Rev. Francis S. Tebbe, president of the Catholic Coalition on Preaching. "We didn't have to do it before. We were filled."

'A busy life'

Schnippel's daily calendar is a constant reminder that recruiting is a priority. As the archdiocese's vocations director, he's on the road most days and had a total of five nights off in October and November.

"I try to go where the young people are," Schnippel said. "It's a busy but exciting life."

His visit to La Salle's career day was typical of the events that pack his schedule. The 15 kids who attended the three half-hour sessions expressed varying degrees of interest, ranging from a boy who was active in his church to one who wasn't even Catholic.

"That's kind of a requirement for the priesthood," Schnippel told the non-Catholic with a laugh. "But we'll work around it."

Patience and good humor are crucial because Schnippel can spend a year traveling the archdiocese's 19 counties to find just a half dozen new recruits. The archdiocese has 28 students in its seven-year seminary program and averages five graduates a year.

Schnippel, who hopes to triple the number of graduates, wants to make sure potential recruits don't dismiss the priesthood because of peer pressure, parental expectations or worries about how society perceives priests today.

He tells potential recruits that the call to the priesthood often comes quietly and can be drowned out by the noisy world around them.

"There are rarely trumpets or midnight visions," Schnippel said. "If only it were that simple."

Schnippel begins his presentations by telling prospective recruits why he dropped out of a pre-med honors program at Ohio State University to enroll in the seminary. He described feeling pulled to the church, not by a clear voice from God, but by a persistent feeling his life had another purpose.

"I gave it up to become a priest. I do not regret it one bit," he told the La Salle students. "To be a priest is to be a man for others."

The personal story struck a chord with some of the boys.

"When he said he dropped med school for it, that was impressive," said Kevin Gines, 16, a junior who is considering religious life. "I'm not sure I'm that called."

Marketing the priesthood

Schnippel senses the uncertainty in many students, and he understands it. The decision to give up everything they are expected to want - a secular job, a family, a big house - is a tough one for anyone, let alone a young man just beginning his adult life.

Chris Winiarski, the director of campus ministry at La Salle, said a student once told him he felt called to the priesthood but was trying to "push it out" of his mind.

"Our kids just don't hear this message," Winiarski said. "They hear you've got to get the newest cell phone, the best car. It's something that isn't grasped overnight."

Schnippel and other recruiters try to change that dynamic by changing the way they get their message to young people. They recognize that while the spiritual aspect of the priesthood is crucial, prospective priests also have practical concerns about the low pay, the lifestyle and the commitment to seven more years of school.

The La Salle students don't ask many questions, but Schnippel knows from experience what they're thinking.

"What about celibacy?" he asked. "Will I be lonely?"

He answered his own question by telling them how fulfilling it is to devote his life to Christ. He described the humility of presiding over the funeral of a child and the responsibility of absolving someone of their sins.

But he also talked about the family and friends who make his personal life rewarding, about going to football games, cooking out with friends and doing the things anyone else might enjoy.

Modern recruiting techniques help get that message out. Schnippel sometimes uses a PowerPoint presentation and hands out DVDs on priestly life.

He also can direct recruits to a church Web site, www.cincinnati vocations.org, which addresses some of the thorniest questions facing recruits and their families.

Click on the heading "I like women" and recruits will be assured that feeling sexual attraction "does not preclude us from being called to the priesthood." Click on the heading "We want grandkids" and parents will be urged to reflect on the impact a priest has on others, and to accept their son's sacrifice as their own.

"Forty years ago, we sent you a letter and maybe a visit," Tebbe said. "Now, we have blogs, sophisticated Web sites and text messages. This is how young people communicate. It's how we reach them now."

Personal touch matters

Recruiters even use the most modern of marketing techniques: the focus group.

What they have learned, Schnippel said, is that acknowledging a priest's life is hard can be a strong selling point. He said the slogan teens responded to most favorably was "a life of sacrifice."

"It's almost a reaction against the narcissism of our culture," Schnippel said. "This is so radically different from that. It causes guys to sit up and take notice."

But slogans and marketing campaigns can't change the fact that many of those drawn to the priesthood need time to make up their minds.

Schnippel said that's why personal contact still matters most.

Recruiters sometimes invest years in a potential recruit, keeping in contact through phone calls, text messages or an occasional visit. They also try to match recruits with mentors who can give them a sense of the job before they commit to it.

Brian Phelps, 28, a seminarian at Mount St. Mary's in Mount Washington, needed years to decide the priesthood was right for him. "I realized something was missing," he said. "I was doing everything I wanted to do, but something was missing."

Schnippel knows Phelps' story is typical. As he speaks to the kids at La Salle, his expectation is not to walk out with a dozen commitments to the seminary.

Maybe a few will become priests someday, or maybe they will just spend a little time reflecting on how they'll use their God-given abilities to run businesses, build skyscrapers or raise families.

Either way, Schnippel will walk away feeling he's done his job.

"The challenge I give you guys is to be remarkable," Schnippel told the students as his session ended. "Don't be humdrum. God has given you the gifts to do something dramatic in this world. Take him up on that challenge."

Contact: dhorn@enquirer.com