Baltimore, Md - State Sen. Presents Award to Nuchem Rosenberg over His Crusade on Abuse Issues.

Voz Is Neias

December 2, 2008

http://www.vosizneias.com/23466/2008/12/02/baltimore-md-state-sen-presents-award-to-nuchem-rosenberg-over-his-crusade-on-absue-issues/

Baltimore, MD - The Awareness Center, Inc. presented last week Rabbi Nochum Rosenberg with the first annual "Rape Victim Advocate Of The Year Award" -- in recognition of his dedication, determination and also for risking his life in hopes of helping those who have been sexually abused in orthodox Jewish communities around the globe .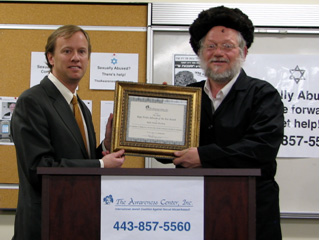 Baltimore Senator Jim Brochin hands Rabbi Nochum Rosenberg award for The Awareness Center



Presenting the 2008 award was Maryalnd's Senator, James Brochin and Vicki Polin, Founder/Director of The Awareness Center, Inc.

In an exclusive interview with VIN News before this award was given to Mr. Rosneberg, Maryland State Sen. James Brochin, an outspoken lawmaker on sexual abuse issues, said, "I don't know much about Rabbi Rosenberg, but the issues that he has raised should definitely be receiving of more support in the Orthodox community.

At the same time I'd like to send a wake-up call for the Baltimore Jewish Council and the Orthodox community to please support my efforts to pass the statute of limitation extension law. I am quite disappointed that the community of Baltimore, who know full well they have abuse issues, did not to come out and help me on sex abuse issues."