Former Area Priest Sued by Hobart Teen

By Andy Grimm
Gary Post-Tribune
December 4, 2008

http://www.post-trib.com/1313566,emerson.article

A Hobart teen who claims he was molested by the Rev. Richard Emerson is suing the Catholic Diocese of Gary and the former priest.

The suit, filed by the same attorneys who represent two Florida men who claim they were molested by Emerson in the late 1980s and 1990s, is the first to allege sexual misconduct by Emerson while he was working in the Gary diocese.

The victim, identified as "John Doe," claims Emerson repeatedly abused him sexually starting in 2003, when the boy was 11 and a member of St. Thomas More parish in Munster.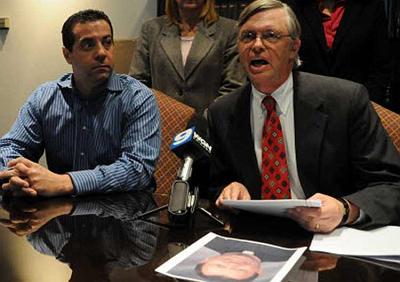 Attorney Joe Saunders (right) points to paperwork related to the lawsuit filed against a former priest, Richard A. Emerson, who is accused of sexually abusing children during his ministry, at a press conference Wednesday in Chicago. (
Photo by Sun-Times News Group


The alleged victim said Emerson fondled him sexually and watched pornographic videos with him.

Gary Bishop Dale Melczek was aware of allegations against Emerson as early as 1991, according to internal church correspondence obtained in the Florida cases, said Marc Pearlman, who presented a stack of letters with his 12-page civil lawsuit.

"What you hear from churches in these cases is that these are problems from a generation ago, not the present day," Pearlman said. "The problem with the church and sexual abuse still exists and the manner in which the church handles it remains problematic."

Church officials began an internal investigation of Emerson in 2004, after civil lawsuits alleging sexual abuse were filed against him in Florida. Emerson was allowed to continue his pastoral duties, when the investigation determined the allegations were "credible" and he was suspended, according to a letter from Melczek to Cardinal Joseph Ratzinger, now Pope Benedict XVI.

Emerson was stripped of the priesthood, at his own request, in 2006 and relocated to Las Vegas and may have moved to Georgia, Pearlman said. His final assignment was at the Notre?Dame parish in Michigan City.

The Hobart boy did not tell his parents about the abuse until six months ago, attorney Joseph Saunders said at a news conference at Pearlman's downtown Chicago law firm Wednesday. The family reported the abuse to police in Monticello, Ind., where Emerson has a home.

The White County Prosecutor's Office confirmed a report was filed and a criminal investigation is under way.

Deputy Prosecutor Terry Smith declined to say when the report had been filed or to offer specifics about the investigation.

Smith said he believed the Indiana State Police were heading up the case, but officers with State Police districts in both Lafayette and Lowell said they had no knowledge of the situation.

Officers with the Monticello Police Department and the White County Sheriff's Department also said they were not aware of the investigation.

Church officials did not return calls from the Post-Tribune on?Wednesday.

No criminal charges were filed against Emerson in Florida because the statute of limitations had long expired before the alleged victims, who claim they were abused in the 1990s, reported the abuse to authorities, Pearlman said.

The letters from Melczek to Ratzinger do not mention specific incidents of abuse, but that "since I (Melczek)?arrived here in 1992" several lay church members and other priests had voiced concerns about Emerson taking young male parishioners on camping trips and vacations, and inviting the boys to stay with him at the rectory. Melczek also mentions that lawsuits had been filed in Florida.

In a letter to Emerson from Melczek, the bishop wishes Emerson well in a new job in human resources, and mentions the former priest had been paid $20,000 by the diocese.

Contact Andy Grimm at 648-3073 or .agrimm@post-trib.com.