Priest Abuse Trial Opens

By Adam Silverman
Burlington Free Press
December 4, 2008

http://www.burlingtonfreepress.com/article/20081204/NEWS02/81203039

A lawsuit against the state's Roman Catholic Diocese involving allegations of sexual abuse by a priest and a cover-up by church leaders began Wednesday, with opening statements and witness testimony mirroring allegations from two previous cases this year.

The case involves claims by a former Burlington altar boy that he was molested twice by the Rev. Edward Paquette during the late 1970s, when he was 11 years old.

"The diocese chooses to protect priests rather than to protect children," the man's lead attorney, Jerome O'Neill, told a jury of eight women and six men during a one-hour opening statement Wednesday morning. "This diocese created an atmosphere in which child molestation was acceptable."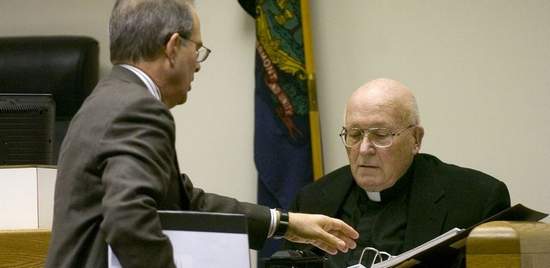 Monsignor John McSweeney of the Roman Catholic Diocese of Burlington testifies Wednesday in Superior Court in Burlington on the opening day of a sexual abuse trial.
Photo by Emily Nelson


Diocesan attorneys contend that the man, now 41, waited too long to file his lawsuit, and they say his troubles in life appear unrelated to the abuse and could be overcome with therapy.

O'Neill, though, told the jury his client only recently became aware of the diocese's culpability — church leaders hired Paquette despite their knowledge of previous instances of sexual abuse and shuffled him through several Vermont parishes when more claims arose — and of the devastating effects of the molestation on his life.

The diocese does not dispute the allegations of molestation, which involved fondling and happened in Christ the King Church in Burlington when the boy was changing into his robe before Mass. Lead defense attorney Thomas McCormick called the abuse "illegal," "immoral" and "wrong."

Paquette, who is retired and lives in Westfield, Mass., is not a defendant and is not attending the trial. The same was true for earlier cases.

The trial, in Chittenden Superior Court in Burlington, follows nine other lawsuits against the diocese that led to either a jury verdict or an out-of-court settlement. Those proceedings involved Paquette and three other priests. Dozens more lawsuits are pending.

An earlier trial, which ended in May, resulted in an $8.7 million verdict against the diocese; that case is under appeal. The second case this year resulted in a mistrial after the jury deadlocked in August.

Opening statements

In the current case, the former altar boy alleges the diocese was negligent in hiring a known child molester, failing to protect children from misconduct and, afraid of scandal, hiding from parishioners information about abuse. The plaintiff, now a businessman living in Takoma Park, Md., is seeking an unspecified amount of compensatory and punitive damages.

The Burlington Free Press does not disclose the names of alleged victims of sexual abuse without their consent.

McCormick told jurors 36 years has passed since officials brought Paquette to Vermont, and 30 years since the alleged abuse. Much has changed during the interceding decades, he said.

"At the time, pedophilia was thought to be a mental condition associated with depression," McCormick said to the jury, noting the diocese sought counseling for the priest and a "cure" for his proclivities. "How do we as a judicial system deal with an organization's responsibility for decisions made 36 years ago? How does one assess the consequences, the impact on a victim's life?"

O'Neill said the victim experienced lifelong suffering — including persistent anxiety, fears of failure, alcohol abuse and other difficulties — caused by the abuse the diocese permitted. A financial award is the only way under the law to compensate the victim and to punish the diocese for allowing Paquette's misconduct to continue, O'Neill argued.

"There isn't some other thing we can do to change history," he said, adding he will disclose a figure at the end of the trial. "The amount we request equals the amount of harm this diocese did."

McCormick countered that the diocese will dispute the link between the sexual molestation and the victim's experiences and challenges into adulthood. The victim, McCormick argued, "has known for a long time that a priest of the diocese abused him."

Testimony begins

The first witness was former diocese official Monsignor John McSweeney, who, like in past cases, testified about what church officials knew, when they knew it and what they did regarding abusive priests, including Paquette.

McSweeney testified about letters and other internal church documents prepared and exchanged in the early 1970s regarding Paquette's hiring and his later relocation through a number of assignments across the state. The paperwork showed diocese leaders were aware of numerous molestation allegations against Paquette, sought counseling for him but disregarded warnings to keep him away from children and waited to warn other church officials and parishioners, even as claims mounted and followed the priest from parish to parish and diocese to diocese.

O'Neill also showed McSweeney pages of paperwork from a diocese in Indiana, Paquette's previous assignment, outlining assault allegations and consequences. McSweeney said Burlington decision-makers never saw the documents because they declined to conduct a full background check on Paquette.

O'Neill asked whether reviewing the papers could have influenced the hiring decision.

"That would have been helpful, yes," McSweeney replied.

Lawyers have said proceedings could last through the end of next week.

Contact Adam Silverman at 660-1854 or asilverm@bfp.burlingtonfreepress.com.