Dark Side of the 'Chaste' Life

By Sue Montgomery
Montreal Gazette
December 6, 2008

http://www.montrealgazette.com/Dark+side+chaste+life/1041152/story.html

It's a Catholic order of religious brothers, born out of the French revolution, that spread to North America to teach and minister the sick and poor. They live, eat and pray together, and have taken vows of poverty, celibacy and obedience. They have assets of in excess of $50 million, including investments and property, such as the prestigious private school Collège Notre Dame as well as the University of Notre Dame in Indiana. They own and operate St. Joseph's Oratory where an estimated 2.2 million visitors a year come for solace and prayer.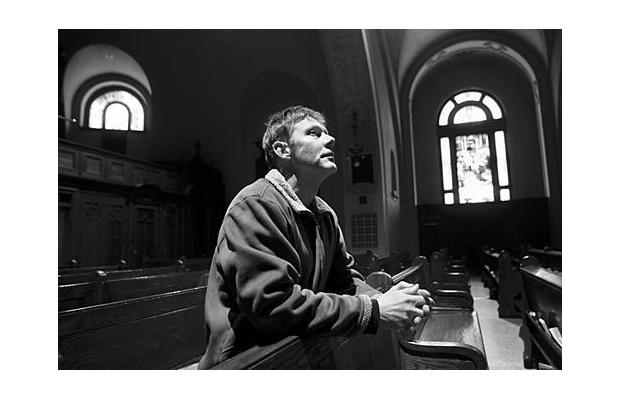 Wilson Kennedy prays at St. Joseph's Oratory. He left the Brothers of Holy Cross when he became disillusioned by the brothers' sexual abuse of children, he says. "We pray to God but God has nothing to do with this."
Photo by John Kenney


But there is a dark side to this seemingly chaste life of serving God. Like so many other Roman Catholic orders, the Brothers of Holy Cross, whose numbers in Quebec have dwindled to fewer than 60 from about 120 members 20 years ago, have had their share of allegations of sexual abuse and paying victims for their silence.

Until now, that has been kept under wraps by a culture of denial, intimidation and fear.

After more than 20 years with the order, Wilson Kennedy, 48, says he grew disillusioned by the sexual abuse and the ends to which the brothers would go to protect their reputation and fat bank accounts.

"We pray to God but God has nothing to do with this," he said in a recent interview. "Everything that I did, it just didn't make sense in the end. It wasn't about God or equality, it was about dollars and cents. It was about control. It was about abuse."

When asked about sexual abuse and payoffs, Father Jean-Pierre Aumont, the provincial superior for the order, claimed it is the target of intimidation and blackmail by a religious brother who recently left the order and who wasn't happy with the financial package he negotiated before his departure.

"I can assure you that the Congregation of Holy Cross acts with diligence and deals seriously with situations brought to our attention in which one of its members or employees has acted improperly," Aumont wrote. "We've taken necessary steps and co-operated with authorities in the past when made aware of such situations."

But documents obtained by The Gazette and in interviews with victims and sources close to the order suggest otherwise - a revelation driven home to Kennedy beginning in 2000, when he was elected to the provincial council, the local governing body for the order in Quebec and New Brunswick. Although he'd previously heard the rumours about sexual abuse, he didn't have the details until, as councillor, he was asked to investigate whether the order could be sued by alleged victims and how it could best protect its finances from such a potentially damaging suit.

"I can honestly say we knew that abuses were happening but many times we'd act by taking away (the brothers') credit cards, access to cars, access to money, and the provincial would say 'I've done my job.'

"But (the abuse) continued, and we closed our eyes," he said. "It was easier because there was nothing we could do. The brothers would just deny it."

It was knowledge that reached all the way to Rome, proof of which is contained in a March 2002 letter from Father James T. Mulligan, assistant to the superior in Rome, to the provincial superior in Quebec, Réginald Robert.

"Increasingly, Réginald, the sexual abuse cases are making everyone very fearful," Mulligan wrote. "Consider your financial resources. And consider now the court case that will take place in Gaspé in May. That is going to cost your province money... money for lawyers and very probably money for recompense."

The case in Gaspé he was referring to was that of Gilles Côté, found guilty in August 2002 at the age of 69 of sodomizing and committing indecent acts on his nephew, Richard Côté, from 1972 to 1978 and sexually touching his great-nephew in 2001. At that time, both the judge and probation officer concluded that the risk of reoffending couldn't be ruled out.

Gilles Côté served his sentence of three years and, now 75, is living out his retirement in one of the brothers' houses in St. Césaire, his expenses taken care of by the order.

But Côté was just one of the worrisome brothers on Mulligan's mind in 2002. Mulligan's letter from Rome continues:

"And consider the two or three brothers that you have in Montreal and the brother in Toronto. Who is supervising the brother in Toronto? And the brothers in Montreal? At any moment, someone might bring a case against any of them, a case that will cost the province money. What is happening in the States and elsewhere has all of the American provincials very much afraid. Something could happen in each of those cases.

"And when one factors in the sexual abuse spectre that is everywhere ... retirement and prayer and fishing and reading and watching the Canadiens on TV look really attractive!! (well maybe not so much watching the wretched Canadiens!!)"

And in a letter dated April 5, 2004, Father Hugh Cleary, superior in Rome, wrote to provincial superior Réjean Charette, the order's top man in Quebec at the time, asking about a religious brother. Sources say the brother had abused a child while working in Rwanda.

"I heard that Brother Ulysse Hamel continues to volunteer at the Oratory after having been officially let go," Cleary wrote. "I've asked him to stop in order to avoid a lawsuit for the Oratory or Province if his behaviour were to be known publicly. It's difficult for him, I'm sure, because of his great love for Brother André and Saint Joseph, but these are difficult times in the church."

When asked this week about allegations of abuse of a Rwandan, Hamel, now 80, replied, "I don't know if that's true or not. I'm not aware of that." He taught for eight years in schools in Butare and Kigali in Rwanda, before the Central African country was devastated by genocide 1994.

When asked why he was let go at the oratory, Hamel replied, "They let me go, but they didn't say why. Another guy came in to replace me."

Kennedy said Hamel "knew exactly why we let him go. ... Because we told him."

He confirmed that moving brothers around like pieces on a chess board was the common practice, rather than getting police or social services involved, or outright ex-communicating someone.

"We never once dismissed anyone, although that was an option, but if you could get rid of the brother by sending him some place where he was out of sight, out of mind, all the better," he said.

"We could have sent them to therapy, but they weren't willing subjects."

Such situations of abuse, he said, came up on average four or five times a year, but the names of the brothers in question were never recorded in the minutes of the meetings, for fear someone would read them.

Kennedy described some of the abusers as naïve, caring men, shielded from the real world by the insular life of the order.

"Did they not know what they were doing?" he said. "And if not, how sad, because lives are now ruined."

A source who had knowledge of the daily financial operations of the brothers and also had signing power on the cheques for the administration of the religious province, said that in the many years he worked for the order, at least $500,000 was paid to victims to buy their silence about abuse.

One, a young drug-addict who had photos of him and Brother Léon Laroche having sex, was given about $25,000 for the lurid pictures, the source said. Laroche died recently in his 70s. Over the years, Laroche gave the addict close to $100,000 in exchange for sex or affection. "The guy played Laroche like a violin," said a source close to the order.

"I've known the brothers for years," he said. "I'd tell the provincial that someone was dangerous and they'd look at me and say, 'What do you want me to do? Think of the scandal it'd bring on the whole thing.' That was the dilemma."

Others were also cut a lot of slack or those in charge simply turned a blind eye to what has going on. In October, 2003, Brother Gérard Dionne, now on the provincial council, received $1,000 and $1,500 within two days, but the receipt gives no explanation what the money was for. Dionne refused to comment this week, referring all questions to the provincial superior, Father Jean-Pierre Aumont.

Sources said the money was to pay off a Rwandan boy who alleged that he was abused by Brother Hamel.

"When (Hamel) came back, he was sent to the oratory to work," the source with knowledge of the finances said. "Suddenly, a black guy shows up there and says if he doesn't get help, he's going to the newspaper.

"It ended up costing $5,000 or $6,000 for him to shut up," he said. "At about the same time, in 2003, Ulysse Hamel was dismissed from the oratory."

The source said that since the brothers lived together in houses, they all knew what each other was up to.

"So they were all holding each other by the balls," he said, explaining the conspiracy of silence that existed.

"There are brothers who live it very faithfully and to them I take my hat off," Kennedy said. "But they were few and far between. For those in positions of power, it was more about power than service."

Contact: smontgomery@ thegazette.canwest.com.