Researching Role, Streep Moved by 'Extraordinary' Nuns

By Stephen Schaefer
Boston Herald
December 7, 2008

http://news.bostonherald.com/entertainment/movies/general/view/ 2008_12_07_Researching_role__Streep_moved_by_'extraordinary__nuns/srvc=home&position=also

Though "Doubt," the film version of John Patrick Shanley's Pulitzer-winning play, piques the concepts of truth and certainty, star Meryl Streep was adamant.

"I already knew the answer!" she said laughing at a post-screening talk.

Director Shanley agreed: "She shared it with the crew, the craft services table. In-between takes she would say, 'I know he did it! I'm going to kick his a-- in this scene.' And you did."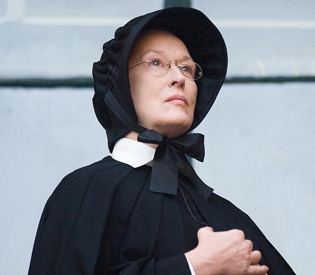 Meryl Streep in 'Doubt.'



Two-time Oscar winner Streep plays Sister Aloysius, the hardnosed principal of a Bronx Catholic school in 1964, who is convinced that the popular new parish priest (Philip Seymour Hoffman) is molesting a student.

Streep researched the history of the Sisters of Charity and wore a wool gabardine replica of their habit with its distinctive bonnet. Before filming, "We went up to Saint Vincent's College, where we shot part of it. And we visited a retirement home for the Sisters of Charity and talked to them. And they were extraordinary, extraordinary people," Streep said.

"I didn't go to Catholic school but I really wanted to," said the 59-year-old actress. "I lived in New Jersey, where people went to the public school like I did, but there was this whole group that had the kilts and the blazers and they went to the Catholic school, Our Lady of Perpetual Help. I went to Mass there because they were still saying the Latin Mass and I remember when they changed, we were all, 'Oh! It's so terrible.' It got to be in English and they played guitars and we all hated that. Jackie Kennedy went there when she would come out to ride her horses in that part of New Jersey."

Though "Doubt" is set in a Catholic parish, the actress stressed that the movie "is not about the Catholic Church. It's about someone who thinks you can control evildoers with force and a firm hand and an unrelenting, 'We will not negotiate (with terrorists).' Or there's another approach, one with all these layers of humanity who think you have to have innocence so it doesn't go bad and get corrupted."

("Doubt" opens Friday.)

Contact: cinesteve@hotmail.com