Many Clergy Abuse Claimants Unhappy with Settlements

By Stephanie Barry
The Republican

December 8, 2008

http://www.masslive.com/news/index.ssf/2008/12/many_clergy_abuse_claimants_un.html

SPRINGFIELD - In a conference room at a downtown high-rise, dozens of men who say they were molested by priests learned recently about the economics of abuse.

Gauge the ugliness and duration. Measure the fallout: drugs, divorce, hospitalizations, suicide attempts.

For Daniel B. Daley, four years of alleged abuse by the Rev. Michael H. Devlin, his parish priest in West Springfield, yielded $80,000 in damages.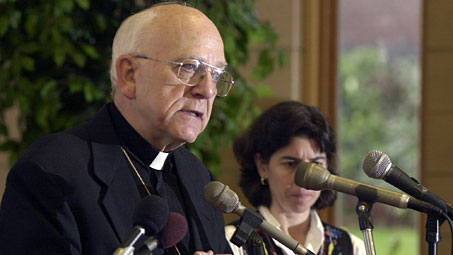 File photo of Bishop Thomas Dupre, the former head of the Springfield Diocese.



"They asked me: 'What difference did it make in your life?'" said Daley, one of 59 plaintiffs who in November collectively settled $4.5 million in clergy abuse claims with the local Catholic diocese. "But it's hard for me to say. I don't know how my life would have been different if it didn't happen."

Victims and their lawyers said they feel the settlements did not nearly assuage years of trauma - in Daley's case, starting when he was 11 years old.

But, a representative for the diocese said the church squeezed as much money as it could out of insurance carriers that resisted covering the claims for years.

"We did honestly and earnestly try to reach the best possible settlement that we could with the insurance companies, and turn it around in large part to the victims. We didn't profit from it," said Mark E. Dupont, spokesman for the Roman Catholic Diocese of Springfield, which covers all four western counties.

The settlement followed a $7.7 million resolution with previous victims in 2004, which the diocese paid out of pocket, Dupont said. The more recent settlement was hung up by wrangling between the church and three insurance companies, which ultimately paid out $8.5 million to the diocese in June.

Lawyers, whose fees can be in the range of a third of any settlement, said high legal hurdles under state law, coupled with the juggernaut of clergy abuse claims that overcame the church in Massachusetts and elsewhere, have produced a protocol for victims looking to settle out of court. Claims are unlikely to make it to a jury, considering statutes of limitations for sex abuse crimes, charitable immunity protections and other legal impediments.

The statute of limitations to report sexual abuse in Massachusetts is 15 years; many victims of clergy abuse come forward long afterward. Also under state law, charities are generally capped at $20,000 in terms of civil awards.

"You have a very difficult job in getting past all of those things in any particular case," said Boston lawyer Carmen L. Durso, who had 10 clients in this round of litigation with the Springfield diocese, and dozens before them with the Boston archdiocese, where more than 500 victims came forward after the scandal broke in 2001. "So (the claimants) don't have a lot of bargaining power."

According to a Web site set up for clergy abuse watchers - bishopaccountability.org - about 30 cases have gone to trial since 1950.

In this city, former Bishop Thomas L. Dupre was indicted in 2004 in connection with the abuse of two boys during the 1970s. However, the district attorney was unable to prosecute because the cases were too old. Dupre resigned when the allegations became public, and contributed to the settlements received in November by two men who sued him.

As a result of dwindling resources, dioceses here and elsewhere have turned to insurance carriers to satisfy legal claims, and insurance companies have begun to place median sums on the members of "victim pools."

In the most recent round in the Roman Catholic Diocese of Springfield, each victim entered into voluntary arbitration with a $75,000 allocation, lawyers said. The diocese waived its charitable immunity and statute of limitations protections as a concession.

After completing questionnaires on the extent of their abuse, each plaintiff met with mediators in a conference room at Monarch Place this fall. Arbitrators were charged with deciding who deserved the $75,000 median, or more, or less. The claimants were obligated to take the sums mediators afforded as a condition of participating.

The overall result, according to lawyers, was a mathematical balancing act that took away from one victim as it gave to another. The diocese set a range of $5,000 to $200,000 for each settlement.

"The first time you give someone $200,000, you take $125,000 over the median amount out of the pool .A¤.A¤. So, in practice, you can't have many people getting $200,000 unless you have a bunch of people getting $5,000. What you end up with is a cluster around the median," said Durso.

A retired U.S. Air Force veteran who now works as a nurse, Daley, 48, of Holyoke, might be considered one of the lucky ones in the relative world of priest abuse.

Although he is twice divorced, Daley said he has not struggled with depression, homelessness or drug abuse, as scores of other clergy abuse victims have reported.

"Did I think the process was fair? Did I think my settlement was fair? No and no," he said.

But Daley struggled to come up with a number that would have satisfied him.

His lawyer, John J. Stobierski, called the most recent settlement process in Springfield "grossly unfair" in comparison with the last, when he represented virtually all of the victims and negotiated personally with the diocese and its lawyers.

"I think the touchstone was how much a victim could really open his heart and spill his guts, which is unfortunate," said Stobierski, who said he observed variances in awards that he thought missed the mark slightly, but lauded mediators' efforts to be fair nonetheless.

He said the high end in the 2004 settlement in Springfield was around $300,000 and the median far exceeded $75,000.

To that end, Daley and other victims said they can't help but be mindful of settlements in other states that are far higher than their own.

According to the clergy abuse watch site, the average settlement per victim between the mid-1980s and today is $325,000. The last three average settlements listed on the site in Spokane, Wash.; Dubuque, Iowa; and Denver, in 2008 were $180,000, $157,000 and $183,000, respectively.

The number of victims in each case was far fewer than in Springfield in each case, however. Jury awards tend to be much higher, according to reports.

Adelard Pierre "Duke" Dumaine III, 45, of Holyoke, also a victim of Devlin, said he received around the median settlement in the Springfield arbitration. He left the process unsatisfied, noting his medical bills exceeded his award after years of drug abuse, hospitalizations for depression and therapy.

However, he said the diocese offered an in-person meeting with Bishop Timothy A. McDonnell, which he found infinitely more rewarding.

"I told him what happened in my life and how it affected me. I am not happy with the financial settlement. I don't think it was nearly enough. But I did feel that he was sincere in his words, and that meant a lot."

Contact: sbarry@repub.com