Married Vicar Who Seduced Parishioner Banned for 10 Years
A Married Vicar Who Had a Love Affair with a Troubled Female Parishioner Has Been Barred from the Church for 10 Years

By Martin Beckford
Telegraph
December 9, 2008

http://www.telegraph.co.uk/news/newstopics/religion/3690526/Married-vicar-who-seduced-parishioner-banned-for-10-years.html

The Rev Patrick Okechi went on dates with his mistress to funerals, took her shopping to buy church candles and drank wine with her in the vestry, a tribunal found.

He turned up at her home one night wearing just a dressing gown and flip-flops after being locked out of his bedroom by his angry wife, it was said.

Dr Okechi, 46, denied adultery and insisted the woman, who was once convicted of burning down her house, was stalking him.

But Church of England investigators found he had sent her romantic text messages and sent her a letter written in the same computer typeface as he used for hymn sheets.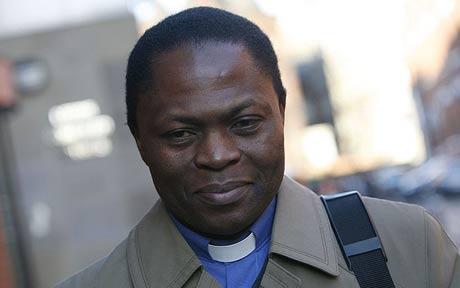 Dr Okechi denied adultery and insisted the woman was stalking him.
Photo by Rii Schroer


Dr Okechi – whose 1960s church was once deemed so ugly that no couples would marry in it – was found guilty of "conduct unbecoming to the office and work of a clerk in Holy Orders" and banned from serving as a priest for 10 years.

The Bishop of Lichfield, the Rt Rev Jonathan Gledhill, said after a disciplinary hearing in Leeds: "Mr Okechi has let down not only himself but also his fellow clergy and his parishioners. And by denying the allegation he has compounded his guilt and caused unnecessary suffering to a parish which has gone through a very difficult over the past couple of years."

The tribunal heard that Dr Okechi had been the vicar of the Church of the Good Shepherd with St John in West Bromwich since 2002, and lived with his wife and children in the vicarage.

His mistress, known only as Mrs A, was described as having "a history of unstable behaviour" and came to talk to him about her problems in December 2003.

She began turning up for weekly church services and having coffee with the vicar, who was 13 years younger than her, and on one occasion he was said to have "put his arm around her and said he thought he loved her".

Soon after she went alone to the vicarage and they had sex after kissing on the sofa, the tribunal heard.

The judgement went on: "One night during summer Dr Okechi came round by car wearing just a dressing gown and flip-flops complaining that his wife had locked him out of the bedroom. They had sex and he left."

The vicar was said to have "frequently" asked his lover to "accompany him to funerals at the crematorium" or to shopping trips in Birmingham, while on one occasion they went on a coach trip to London.

Church investigators found a letter beginning "My dearest SH", said to be short for sweetheart, which was written in the same "Lucida handwriting" font as the vicar used for "church pew sheets". They also examined the vicar's mobile phone and found nine "very intimate" texts to Mrs A.

A churchwarden told how she heard laughing of an "intimate manner" in the vestry and found two empty wine glasses.

The tribunal heard that in December 2005 the vicar's wife, Rachel, called police to the vicarage because he was drunk and he spent the night in the cells. He was bound over the keep the peace and be of good behaviour.

The same day Dr Okechi – who was once sent a "racially offensive" Christmas card addressed to "the black faced vicar" – was visited by the Bishop of Wolverhampton and admitted his marriage had been in trouble for seven years, particularly because they were short of money.

After the vicar ended his affair with Mrs A, she became a "woman scorned" and started "making life difficult" for him, prompting him and his wife to phone the police.