Mamaroneck Priest Charged with Sex Abuse

By Christine Pizzuti and Candice Ferrette
The Journal News

December 9, 2008

http://www.lohud.com/article/2008812090374

MAMARONECK - A village priest was arrested yesterday at John F. Kennedy International Airport and charged with fondling a woman.

The Rev. Richard Ordonez, 37, a visiting priest at St. Vito's Church, a Catholic parish on Underhill Avenue, was charged with first-degree sex abuse, a felony, after he was taken into custody yesterday morning.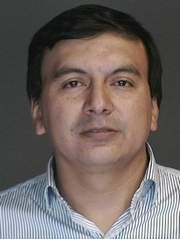 The Rev. Richard Ordonez of Mamaroneck is escorted by a detective for last night's arraignment. Richard Ordonez



He was arraigned last night in the judge's chambers at Village Hall while a Board of Trustees meeting was under way in the courtroom.

Ordonez was accused of abusing a woman in 2004, fondling her breasts and other parts of her body, according to a statement read during the arraignment. He was being held in the Westchester County jail without bail. He is due in Village Court on Dec. 18.

Ordonez signed an order of protection and surrendered his Canadian and Ecuadorean passports.

At the arraignment, when asked whether he wanted an attorney, Ordonez said repeatedly that he wanted to speak to the Rev. James Healy, pastor at St. Vito's Church. Healy, who was not at the arraignment, declined to comment yesterday on the case.

Village police detectives launched an investigation Sept. 24 after a woman came forward alleging that Ordonez had abused her, said Lt. James Gaffney, who would not comment further, citing a pending investigation.

Ordonez is not among the 700 priests in the Archdiocese of New York system, said Joseph Zwilling, a spokesman for the diocese.

"This is the first I am hearing of this incident," Zwilling said last night

It is likely that Ordonez was visiting from another diocese, Zwilling added.

Mary Marino, 83, organist at St. Vito's, said she and other members of the community were shocked to hear about Ordonez's arrest yesterday.

"He never appeared to be that kind of a person. He's a very nice and very respectful young man to both me and my husband," Marino said.

The priest had been very well liked since he came to St. Vito's about three years ago, she said.

Ordonez, a native of Ecuador, celebrated Mass in Spanish, English and Italian. He has been credited with reaching out to the parish's Hispanic immigrant population, Marino said.

Reach Christine Pizzuti at cpizzuti@lohud.com or 914-696-8291.