St. Louis Catholic Church First Ever to Post Link to Priest Abuse Group

By Tim Townsend
St. Louis Post-Dispatch

December 8, 2008

http://www.stltoday.com/blogzone/civil-religion/catholic/2008/12/st-louis-catholic-church-first-ever-to-post-link-to-priest-abuse-group/

The Survivors Network of those Abused by Priests says for the first time in its history, a Roman Catholic church has posted a link on its website that directs its user to the activist group's own site.

From the St. Cronan Church website:

Though controversial at times, the Survivors Network of those Abused by Priests has a website (www.snapnetwork.org) containing helpful information and resources, not only for those who have been abused and their families, but for all of us who want to learn more and be of support to our brothers and sisters in Christ who are hurting the most at this time. If there was ever a time when we needed to pray together, it is now.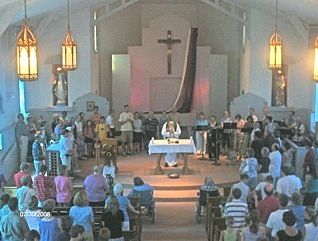 St. Cronan Church



St. Cronan, located in south St. Louis, is known for its more liberal take on Roman Catholic teaching. Two members of the church's pastoral team, Sr. Louise Lears and Sean Collins, resigned over the summer. Lears left the church just before former St. Louis Archbishop Raymond Burke placed her under the canonical penalty of interdict, a lesser form of excommunication.

Collins and Lears had attended the ordination of two St. Cronan parishioners - Rose Marie Hudson and Elsie Hainz McGrath - as members of an organization called Roman Catholic Womenpriests. The two women were eventually declared excommunicated by Burke along with the woman who performed the ordinations at Central Reform Congregation, a St. Louis synagogue.

St. Cronan parishioners have been through their own ordeal with an abusive priest. It's former pastor, Joseph Ross - who was laicized, or defrocked in 2002 - was arrested last month in Arkansas and returned to St. Louis to face new allegations.

The St. Louis Circuit Attorney's Office has said the recent charges against Ross include 11 counts of statutory rape, statutory sodomy and child molestation. Investigators said the abuse took place between 1998 and 2000 in the 1200 block of Boyle Avenue in St. Louis. St. Cronan's is at 1203 S. Boyle Ave.

Ross pleaded guilty in 1988 of sexually molesting an 11-year-old boy during confession at Christ the King Church in University City in 1986.