Gabriel Byrne: Baring His Soul on the Small Screen
The Brooding Irish Actor Has Used a TV Documentary to Break His Silence about the Demons That Almost Consumed Him

The Times
December 14, 2008

http://www.timesonline.co.uk/tol/news/world/ireland/article5337389.ece

In a week in which Gabriel Byrne was nominated for a Golden Globe for his role as psychotherapist Paul Weston in a television series entitled In Treatment, it seemed apt that Irish viewers got a chance to watch the Dubliner exorcize his own demons about binge-drinking, depression and self-imposed exile.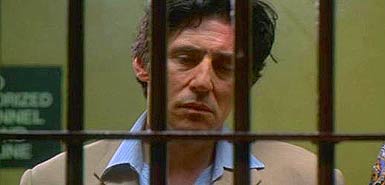 Gabriel Byrne in the Usual Suspects



While the Hollywood Foreign Press Association was nominating four Irishmen for the film awards — fellow Dubliners Brendan Gleeson and Colin Farrell getting acting nominations for In Bruges and Jonathan Rhys Meyers for The Tudors — a television documentary that delved into Byrne's battle with drink was captivating and even unsettling viewers at home.

In Treatment depicts the therapy sessions that Byrne's character, Weston, holds with patients before concluding each Friday in the office of his own therapist, Gina. But even more dramatic was the 58-year-old actor's revelation in the documentary that his binges were so bad he once vomited and drank simultaneously while locked in a London hotel room.

Byrne's melancholic ruminations about his past, intercut with home footage of ex-wife Ellen Barkin bathing their children or bringing up breakfast while he read Hot Press in bed, provided a rare insight into an actor who has been scrupulous about protecting his private life.

In Stories from Home, which was released for the Galway Film Fleadh last summer but only shown on television last week, Byrne reveals his "love of the bottle" and how much he related to James Tyrone, the alcoholic he played in a Broadway production of Eugene O'Neill's A Moon for the Misbegotten.

"I don't miss drinking now at all but it did lead me to a place where, had I not pulled back, it would have led to an early grave," the actor said. "I was a periodic drinker. I could go off it for weeks at a time, but I could go to a hotel room and be there for three or four days with the curtains closed and the phone off the hook.

"I woke up one day a few years ago and decided to stop. I checked into a hospital and that was probably the most difficult thing I've ever done in my life."

While Byrne didn't say when his problems with alcohol began, he believes drink and depression were intertwined. "I used to drink to get out of depression, which led to more depression. It was a vicious cycle. I still have to be careful with depression. It's about trying not to let other people know all you want to do is lie in a corner and have nothing to do with anyone."

Like many of O'Neill's Irish-American characters, Byrne has settled into the skin of an exile but has mixed feelings about his place of birth. After living in Spain, London, New York and Los Angeles, Byrne concedes moving around is "addictive" and doesn't feel he can be himself in his native city. "In Dublin, I'm constantly defined by my past," he said. "In New York, I have a clean slate."

Born in 1950, the eldest of six, he grew up in Walkinstown, on Dublin's southside. His father, a soldier, met his mother, a nurse from Galway, at a dance. He became a cooper at Guinness's brewery until forced into early retirement.

The actor claimed he suffered physical, sexual and emotional abuse by priests between the ages of eight and 11. After seeing a slideshow about missionary priests in Africa, he moved to England to train at a seminary. He stuck it out for five years until "the lure of girls and the outside world" became too much.

"I came back to Dublin, aged 15 and a half, as a failed priest," said Byrne, now an atheist. "So I got a job as a messenger boy in the post office, then worked in Dublin's only gay bar, was an apprentice chef, and then became the worst plumber in Dublin. I had jobs in a morgue, repairing bicycles, selling encyclopaedias — it was then I had a road to Damascus moment when I realised I should go back to school."

Byrne studied archeology at University College Dublin, a campus he disliked intensely, telling approving Trinity College students years later that Belfield felt like a grey airport waiting for a plane that never arrived. A more general dislike of modern Irish architecture surfaced earlier this year when he rang the designers of a new Department of Finance building on Merrion Row to complain.

As he shifted from one job to another, acting was "something to do in the evenings" and a way to meet women. In 1976 he met Aine O'Connor, an RTE presenter, while working as a teacher. Encouraged by O'Connor during their 10-year relationship, Byrne turned acting into a full-time job at the age of 28. His small-screen break came in the form of brooding farmer Pat Barry in the RTE soap The Riordans, a role that instantly elevated him to heart-throb status.

Byrne graduated to Bracken, The Riordans' offshoot, and then moved to London with fellow actor Liam Neeson and appeared in 1985 in Defence of the Realm, a thriller that led to him winning a role in the gangster film Miller's Crossing.

"I was unknown in America except for Defence of the Realm, which was a cult film there," he said. "It was seen by the Coen brothers, and they asked me if I would audition for a picture that every major actor, from Gary Oldman to Richard Gere, wanted to do."

But when Byrne set foot in America he was really following Barkin, whom he met during the production of Siesta. They married in 1988, set up home in New York and after the children, Jack, now 19, and Romy, 16, came along, they bought a house in rural Galway.

By the early 1990s, the pair had become regulars on the red carpet, with Barkin winning fame for her roles in Sea of Love with Al Pacino, and The Big Easy with Dennis Quaid, and Byrne earning celebrity status for The Usual Suspects. But the couple "drifted apart" and separated in 1993, though they didn't divorce until 1999. Byrne moved to Hollywood and continued to star in big-budget productions such as End of Days and The Man in the Iron Mask.

"I spent four years there because I wanted to know what it was like to be a Hollywood star and wanted and needed to make money," Byrne said. "I discovered a life of ease and all the things that go with being in hit movies. But in a place with no seasons, years go by very quickly."

Barkin quit the film business after marrying billionaire Ronald Perelman, the boss of Revlon cosmetics. Her friendship with Byrne, however, has endured. "I met her a couple of weeks ago and she was raving about In Treatment," Terry George, an Irish director, said in September. "She was proud of Gabriel. They really are close after all this time."

Byrne is believed to be in a relationship with Anna George, a former hedge-fund manager turned actress who will appear as Mrs Singh in Peter Jackson's production of The Lovely Bones. Byrne, though, has barely discussed the relationship and is uncomfortable in the public glare.

"When you're on the red carpet, as soon as you walk through the door, there's someone bigger and more famous behind you," he says. "Fame is a small village where everyone knows you."

Instead, the actor prefers focusing on strengthening cultural and political ties between Ireland and America. He threw a €4,500-a-plate fundraising party for Hillary Clinton in his Brooklyn brownstone last year.

Byrne also used his star power to win support and funds from the Irish government and Irish-American benefactors to help set up the Irish Arts Center in New York. Pauline Turley, executive director of the centre, says groups of women fly into New York to attend the centre's annual gala — but they really just want to meet Byrne. But the actor is shy in large crowds.

"There are times when I am at parties and I feel uncomfortable and I wish I could take the edge off," Byrne admitted in Stories from Home. "It's hard to be in those situations but I'm in them all the time." He hides his shyness well. "Most people would never know when I'm tense in my head. I can be a very gregarious person."