Valley Catholic Priest Fushek Excommunicated

Arizona Republic
December 16, 2008

http://www.azcentral.com/arizonarepublic/news/articles/2008/12/16/20081216fushek1216.html

Dale Fushek, who was one of the highest-ranking Catholic priests in the Phoenix Diocese and later faced legal charges over sexual-misconduct allegations, has been excommunicated from the church.

Phoenix Bishop Thomas J. Olmsted excommunicated Fushek last week but announced his ruling Monday, saying that it was needed because Fushek now holds non-denominational religious services.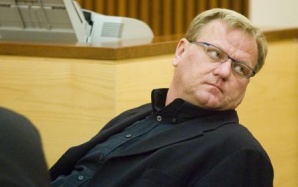 Monsignor Dale Fushek listens during proceedings in San Tan Justice Court in Gilbert Monday
Photo by Tom Tingle


Phoenix Diocese officials said the decision is unrelated to Fushek's legal case, in which he faces seven misdemeanor counts of sexual misconduct.

Fushek, whose case is pending in Maricopa County Superior Court, did not return several calls seeking comment.

Fushek's partner in the year-old Praise and Worship Center in Mesa, former priest Mark Dippre, also was excommunicated.

The act is the oldest and most severe disciplinary action the Roman Catholic Church can impose. Those subject to it are forbidden from participating in any church activity.

"Both priests have consistently refused to comply with explicit directions by Bishop Olmsted to discontinue engaging in public ministry," the diocese said.

Fushek's rise

Fushek was one of the best known priests in the diocese. He won the honorary rank of monsignor, given to very few clergy, in 2002. He also served as vicar general of the diocese, acting as a chief deputy to then-Bishop Thomas J. O'Brien.

Fushek was pastor of St. Timothy in Mesa for 20 years, building it into one of the largest and richest parishes in the Phoenix Diocese. Dippre served as his assistant for five years.

"I have never felt so spiritually moved as I felt during some of Fushek's Masses," said Michael Manning, a Phoenix attorney who worked with him on several occasions.

Fushek handled several major duties for the diocese, including the papal visit in 1987, cooperation with a county attorney's investigation of sexual abuse in the diocese, and construction of the new Diocesan Pastoral Center in downtown Phoenix, which opened in 2003.

At St. Timothy, Fushek also founded a program called Life Teen, which grew into one of the church's largest international youth ministries.

Olmsted replaced O'Brien as bishop in 2003 and later named a new vicar general, unseating Fushek.

Later in 2004, Fushek was accused of watching while another priest abused a boy. The case was settled out of court.

Fushek was suspended, and a year later, he was arrested and accused of 10 misdemeanor accounts of sexual misconduct. The number was reduced to seven when one of the victims died.

A Maricopa County Superior Court judge is considering whether the trials in those cases should be heard together or separately.

Fushek went on to found the Praise and Worship Center, which holds non-denominational services. On the center's Web site, Fushek has said that the center does not use Catholic doctrine.

Excommunication

Public excommunications are rare. During the priest sex-abuse cases of recent years, no convicted pedophiles among the clergy have been publicly excommunicated.

Nationally, several people, including a priest, recently were excommunicated for their roles in an organization promoting priesthood for women.

A Scottsdale priest, the Rev. Gene Young, was excommunicated three years ago for reasons similar to Fushek's.

The Rev. Vernon Meyer, a local priest and theologian, said the practical effect is limited when the parties are no longer involved in the church. Fushek had been suspended from public ministry. Dippre left the church and got married in 2003.

Olmsted, in his statement, said he is concerned that Catholics "may be misled or confused" by the men's actions.

"We encourage Catholics to refrain from supporting the Praise and Worship Center," Olmsted said. "We remind Catholics that the ultimate form of praise and worship is and always will be the Holy Sacrifice of the Mass, and we urge them to keep the Mass as the center of their lives."

Former associates were saddened by the news.

"We're praying for him, but we stand behind Bishop Olmsted and the diocese in this decision," said Randy Raus, president of Life Teen Inc., a non-profit youth ministry that Fushek founded.

Manning, the attorney, said he finds the entire situation surreal.

"I am sorry for this bishop, the church and Monsignor Dale," he said. "It's a real tragedy."