Fourth Man Arrested over Sex Abuse at St Stanislaus, Bathurst

Daily Telegraph
December 16, 2008

http://www.news.com.au/dailytelegraph/story/0,22049,24804972-5001021,00.html

A PAEDOPHILE investigation at a Bathurst school took a dramatic turn yesterday with a fourth former worker arrested and more breakthroughs expected this week.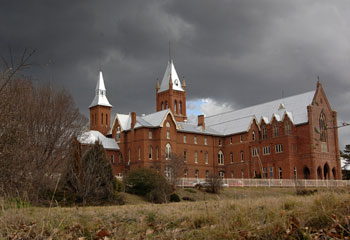 Allegations ... St Stanislaus college, Bathurst



Rick McPhillamy, 47, from Bathurst went to the local police station with his solicitor early yesterday and was charged with two counts of indecent assault.

Former students of the Vincentian school, St Stanislaus college, claimed McPhillamy - who trained alter boys - lived in "The Priest's Corridor" opposite former priest Brian Spillane, who is facing 93 child sex charges.

Brother John Gaven, 66, who is facing 28 child sex charges, also had a room in the corridor which contained the prayer room where hypnotic abuse sessions allegedly took place. The four men are due to appear in Downing Centre Local Court on Friday.