Jury Awards $3.6 Million in Abuse Case

Burlington Free Press

December 17, 2008

http://www.burlingtonfreepress.com/article/20081217/NEWS02/81217040/-1/NEWS05

[with video of Bishop Salvatore Matano's testimony]

A jury awarded $3.6 million in damages Wednesday to a former Burlington altar boy molested by the Rev. Edward Paquette in the 1970s, the second time in a year the state's Roman Catholic diocese has been hit with multi-million dollar verdict in such a case.

The seven-woman, five-man Chittenden Superior Court jury reached its decision just before 3 p.m. after nearly 13 hours of deliberation.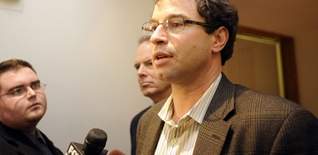 A jury has awarded former Christ the King Church altar boy, 43-year-old David Navari a total of $3.6 million in compensatory and punitive damages arising from a suit alleging that Navari was molested by a Roman Catholic priest in the 1970s in Vermont Superior Court in Burlington on Wednesday, December 17, 2008.



The former altar boy, David Navari of Takoma Park, Md., alleged Paquette twice molested him at Christ the King Church in Burlington and claimed the diocese was to blame because it hired Paquette knowing he had previously molested altar boys in three states, including Vermont.

Gallery: reactions to jury's verdict

Judge: Jury must review entire Matano deposition

Related: Matano deposition offers insight on his thinking on Paquette scandal

Related: Jury begins deliberations in clergy abuse case

Navari, 43, said outside the courtroom shortly after the verdict was announced that he believed justice had been meted out in his case.

"The jury of 12 Vermonters has seen all the evidence and I'm confident that they voted with their conscience," Navari said.

He said he would donate the damage award to a trust fund for youths seeking scholarships at Vermont Catholic schools if the diocese defrocks priests like Paquette who abused children and puts information about their misconduct on the diocese's Web site.

A dejected Bishop Salvatore Matano, speaking with reporters moments earlier, said he regretted the abuse that Navari had suffered and became emotional as he talked about the difficulty of trying to resolve problems caused by long-ago abuse incidents.

"Thirty-seven years ago today I was ordained a priest," he said. "At that time, I never expected to be dealing with these kinds of situations. I'm doing the best I can."

Diocesan attorney Tom McCormick indicated the church will likely appeal Wednesday's verdict, as it did a $8.75 million verdict awarded to another Paquette molestation victim in May.