Higher Court Raises Sentence against Paedophile Priest

Slovenian Press Agency

December 18, 2008

http://www.sta.si/en/vest.php?s=a&id=1347869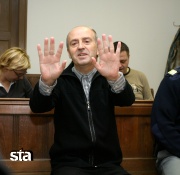 The Ljubljana Higher Court raises prison sentence against Franci Frantar, a former priest in the Kaselj-Zalog parish, for sexual abuse of a minor.



Ljubljana, 18 December (STA) - The Ljubljana Higher Court has raised the prison sentence of the first ever priest in Slovenia to be found guilty of child sex abuse from three years and ten months to five years, according to reports in Thursday's papers.

The rest of this news item is available to subscribers.