Man Pleads Guilty to Child Abuse Charge

Neosho Daily News

December 18, 2008

http://www.neoshodailynews.com/news/x415885521/Man-pleads-guilty-to-child-abuse-charge

Neosho, Mo. - A rural Joplin man has pleaded guilty to a felony charge of first-degree child endangerment.

Paul Kubie Jr., 28, entered the plea Wednesday during a pre-trial conference before Judge Timothy Perigo in Newton County Circuit Court. A sentencing hearing has been set for Jan. 30.

Three counts of first-degree child endangerment and one charge of felony child abuse were dropped in exchange for the guilty plea. A jury trial had initially been set to begin today.

Kubie, his mother, Sharon Twocrows, and his wife, Chasity, were arrested in February after deputies investigated a telephone hotline tip about possible abuse in the home. Four children ranging in age from five years to five months were removed from the home. The Kubies are aunt and uncle to at least two of the children, a 5-year-old and a 4-year-old who are brothers. A probable cause affidavit did not state the Kubies' relationship to the other two children, a 2-year-old girl and an infant girl. All of the children have the same last name, and Twocrows is the paternal grandmother.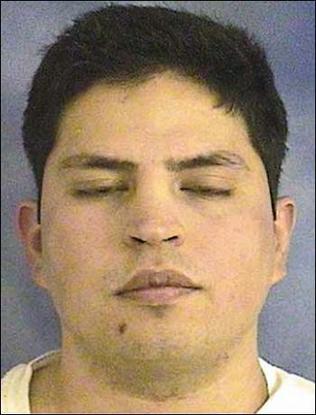 Paul Kubie



The 4-year-old weighed just 22 pounds at the time he was removed from the home and told authorities he "sometimes gets to eat with everyone else" and when he misbehaves, he is forced to stand on his bed while everyone else eats.

Paul Kubie verified food was sometimes withheld from the boy as punishment.

The boy also had ligature marks on his body, and told authorities he is sometimes tied to his bed at night with shoelaces to keep him "from getting into things." He said the laces were knotted tight so he couldn't squirm free.

The boy and a 2-year-old girl also had bruises on their bodies. Authorities said the girl's bruises appeared to have been caused by an athletic shoe, while the boy had bruises all over his body, including one that wrapped around his left arm.

In October, Twocrows and Chasity Kubie were each sentenced to seven years in prison after each pleaded guilty to a felony child abuse charge. The sentences were the maximum penalty allowed under state law, and the two were also ordered to pay $300 to the public defender's fund and $46 in court costs.

Twocrows and Chasity Kubie originally each faced four counts of child endangerment and two counts of child abuse.

A jury trial was set Tuesday for a self-proclaimed rural Neosho pastor facing child sex abuse charges.

Randall "Danny" Russell, 49, pastor of Acts II Church, will go to trial on March 10 on two Class C felony charges of first-degree child molestation, two Class A felony counts of first-degree statutory sodomy, two Class B felony charges of sexual exploitation of a minor, five Class C felony charges of second-degree statutory sodomy, and one Class C felony forgery count.

Russell could face up to 30 years or life in prison on the Class A felony charges, five to 15 years in prison on the Class B felony counts, and up to five years in prison on each of the Class C felony charges if a conviction is reached.

Allegations of child sexual abuse first came to light after an April 29, raid by the Newton County Sheriff's Department at the church, which is also the site of Russell's business, Garages & More, and his home. Deputies seized a computer from the business and several photographs of a nude juvenile girl from the church office. According to a probable cause affidavit, the photos were dated Dec. 21, 2003.

Russell was bound over for trial after three women testified during a preliminary hearing that he molested, sodomized, or raped them when they were under age.

Russell will be back in court Christmas Eve for pre-trial conferences on six Class D felony charges of possession of child pornography and one misdemeanor charge of child molestation.