14 Former Students File Sexual Abuse Suits against Sioux Falls Diocese

By Josh Verges
Argus Leader

December 18, 2008

http://www.argusleader.com/article/20081218/UPDATES/81218027/1001/NEWS

In several lawsuits filed this morning in Minnehaha County Circuit Court, 14 former students at the Marty Indian School accuse Catholic priests, monks, nuns and others of repeated sexual abuse.

"It alleges grotesque acts of sadomasochistic violence for many years," said John Manly, a California lawyer for the accusers. "The real tragedy of this is the church knew and did nothing."

The Catholic Diocese of Sioux Falls is named as a defendant, but a lawyer for the diocese said it had no administrative control over the school.

The Blue Cloud Abbey, an order of Benedictine monks, established the boarding school for Native American students, Jeremiah Murphy said.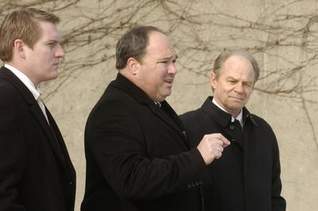 John Manly speaks as Michael Shubeck (left) and Gregory Yates listen during a press conference this morning in front of St. Joseph Cathedral to announce the filing of several lawsuits accusing Catholic priests, monks, nuns and others of repeated sexual abuse against 14 former students at the Marty Indian School.



Although the bishop must approve when and where a mission is established and whether a priest can work publicly, the reach of the diocese stops there.

"People think because it's Catholic, the bishop controls it, and 99.9 percent of the time that's true, but it isn't here," Murphy said.

"When the corporation was formed, it was a Benedictine corporation. It was not a diocesan corporation," he added.

Manly said he wants Bishop Paul Swain to name all alleged perpetrators in the Diocese and stop what he says is a common practice of settling victims' complaints in secrecy. Victims must be allowed to go public with their stories, get help and seek prosecution of their abusers where possible, he said.

"You don't tell victims to shut up," Manly said.

Murphy said the diocese only makes private settlements at the victim's request, and the diocese hasn't paid any sex abuse victims from the Marty school.

For most, if not all, of the 14 accusers filing today, the statute of limitations for prosecution has expired. The accusers' ages range from their 20s to 60s, and the abuse is alleged to have taken place between 20 and 50 years ago.

The lawsuits primarily target the Diocese as an institution. Manly said Bishop Swain shares the blame, even if he wasn't here when the abuse took place.

"If he has knowledge of it and keeps it secret, he's just as culpable as those who were in charge when it happened," he said.

Greg Yates, another lawyer for the plaintiffs, said there are eight East River victims in a prior case, which is still pending in Minnehaha County. He expects the cases of all 22 alleged victims will be consolidated.

The accusers want a jury to decide on a dollar amount award.

Murphy said the diocese is named in the lawsuits because it has money.

He said the latest lawsuits are similar to a previous complaint involving the St. Joseph Indian School in Chamberlain, in which case the diocese was dismissed as a defendant because it had no control over the school.

Contact: jverges@argusleader.com