Catholic Gadfly Pushed Church to Modernize

By Virginia Culver
The Denver Post

December 21, 2008

http://www.denverpost.com/news/ci_11275856

Tom Kerwin, a Catholic gadfly who constantly prodded his church to modernize, died on Nov. 14. He was 78.

A service is planned at 11 a.m. Saturday at Church of the Risen Christ, 3060 S. Monaco Parkway.

Kerwin had fallen Oct. 17 and suffered a brain injury that aggravated existing health problems, said his wife, Mary Ann Kerwin.

Kerwin, who had practiced law here for decades, sometimes belonged to as many as six liberal or progressive organizations for Catholics.

He pushed for choice on abortion, women priests, birth control, married priests and more power for the people.

After the priest pedophile scandal broke earlier this decade, he said in a 2002 Denver Post story that "only a church that is led by the ordained and the unordained can be the cure for the pathology, secrecy, patriarchy and privilege" that he believed permeated the Catholic church.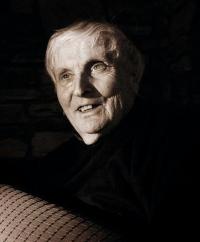 Tom Kerwin was an attorney whose biting persistence never slowed. He loved acting and performed on numerous stages in Denver.



"The church is God's people, not a corporation of executives or a medieval fiefdom. Only a church that is out of touch with the Gospel would boast that it is not a democracy," he told The Post.

In another Denver Post interview, in 2005, he said church leaders "have mistreated women and managed women as if they were children."

"He irritated some people," said the Rev. Patrick Kennedy, a retired priest who will officiate at Kerwin's funeral Mass.

"He aggravated a few pastors, but he believed that's what he was supposed to do. He didn't have a mean streak. I listened to him. He had a good mind."

"He was clearly irascible," said a lifelong friend, Mary Yelenick, formerly of Denver and now of New York City. "He was still a patriot of the church with a 'holy impatience.' "

His biting persistence never slowed.

"His core value was tolerance," said his son Gregory J. Kerwin of Denver, and he was just as likely to lash out at the Bush administration as his own church on the same topic: not allowing dissent.

There were plenty of debates at the dinner table, but he "never squelched" other views, his wife said. Most of the family members "weren't as aggressive or volatile as Tom."

Tom Kerwin loved reading, touring national parks, and taking his wife and eight children on camping trips. "Dad's specialty dinner was a can of hash cooked in an old iron pan," said his daughter Anne Kerwin of Denver.

He also loved acting and played on numerous stages in Denver for decades — from Gilbert and Sullivan to portraying Clarence the angel in a production of "It's a Wonderful Life."

He also loved planting trees, whether in his own yard or someone else's. He once sneaked a 3-foot bristlecone onto the edge of Cranmer Park near his home. He didn't ask or even tell the city. It is now 15 feet tall.

Thomas J. Kerwin was born in Oak Park, Ill., on Sept. 11, 1930, and attended Santa Clara University in California. He earned his law degree from Loyola University in Chicago. He married Mary Ann Collins in 1954 and they moved to Denver in 1960.

In addition to his wife, son and daughter, he is survived by two other daughters: Katie Kerwin McCrimmon and Mary Wilkerson, both of Denver; four other sons: Tom Kerwin of Denver, Ed Kerwin of Ashland, Ore., John Kerwin of San Diego and Mike Kerwin of Golden; and 19 grandchildren. He was preceded in death by a son, Joseph Kerwin, who died of SIDS in 1959.

Virginia Culver: 303-954-1223 or vculver@denverpost.com