Jury Foreman: Vt. Bishop Showed "No Real Remorse"

By Associated Press, carried in Times Argus

December 22, 2008

http://www.timesargus.com/article/20081222/NEWS/812220297/1003/NEWS02

BURLINGTON - The foreman of a jury that last week awarded a Maryland man $3.6 million in a case of sexual abuse by a priest says the current Vermont Catholic bishop's attitude during a videotaped sworn statement may have hurt the church's case.

In the Oct 2 deposition of Bishop Salvatore Matano, the bishop "showed no remorse. He showed no emotion, no real regret over what the victims had gone through," said Andrew Pearson, foreman of the jury that heard the latest lawsuit against the diocese alleging priest sex abuse.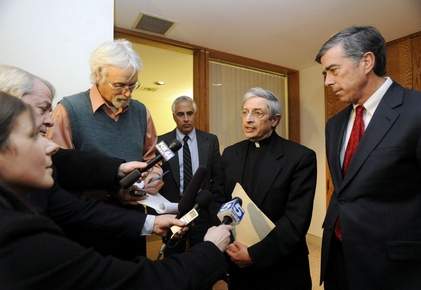 Bishop Salvatore Matano, flanked by the diocese attorneys Kaveh Shahi and Tom McCormick speaks to the press after a jury awarded former Christ the King Church altar boy David Navari, 43, a total of $3.6 million in compensatory and punitive damages arising from a suit alleging that Navari was molested by a Roman Catholic priest in the 1970s. Matano's testimony swayed the jury against the church during the trial in Vermont Superior Court in Burlington, according to the jury's foreman.



Pearson said the jury reached an "easy consensus" that the diocese was at fault for hiring retired priest Edward Paquette while knowing he had had a history of abusing children and allowing him to work in parishes in Rutland, Montpelier and Burlington before dismissing him.

The jury decided on the $3.6 million damage award to plaintiff David Navari after asking for and viewing Matano's deposition a second time, the foreman said.

In the deposition, Matano conceded that then-Bishop John Marshall knew of Paquette's history of bad behavior when it hired him. But he also defended Marshall's action and appeared to suggest that priests should be treated differently from other church employees.

"That definitely had an effect on our decision," Pearson said.

A call Sunday to diocesan spokeswoman Gloria Gibson was not immediately returned.

After last week's verdict, an emotional Matano seemed to take some of the blame onto himself for the outcome of the trial, as well as one in May in which a jury awarded a Colorado man $8.7 million.

Liens have been placed against the diocesan headquarters in Burlington and nearby church land as a result of the court action, and Matano said it seemed he had let Vermont church members down.

"They have expectations of me," he said. "I know I am not meeting the expectations of the faithful and of the victims, and I'm just trying to assess how I can best bring this to a conclusion."

Pearson said later that those comments appeared to mark a change in the bishop. "I saw what Matano said afterward," he said. "It sound more like he was accepting responsibility."

Meanwhile, a national expert on priest sex abuse cases said Vermont's were unusual in the high proportion of them that have been going to trial, rather than being settled out of court.

Terry McKiernan, founder of Bishopaccountability.org, an Internet-based group that tracks such cases, said just 35 of 3,000 cases nationally charging that priests sexually abused children went to trial. Four of those have been in Vermont in the past 13 months.

"You have a unique combination in Vermont of a diocese that is willing to go to trial and a plaintiff's attorney who is willing to try them," McKiernan said.

The plaintiff's attorney McKiernan referred to is Jerome O'Neill of the Burlington law firm of O'Neill, Kellner and Green. That firm has filed a total of 32 cases against the diocese to date, including three in the past month.