Vt. Catholics Optimistic, Despite Adversity

WCAX

December 22, 2008

http://www.wcax.com/Global/story.asp?S=9562178&nav=menu183_15_13_7%27

[with video]

Vt. Faithful Remaining Optimistic, Despite Adversity

Sunday's snow storm made it hard for devoted worshipers to get to and from church, but snow is the least of the problems for the Roman Catholic Diocese of Burlington.

On December 17th, Bishop Salvatore Matano told reporters, "I apologize to all the victims of sexual abuse."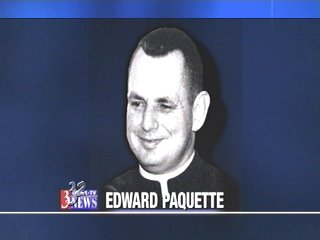 Father Edward Paquette



Last Wednesday, a Burlington jury decided a former altar boy should receive more than 3 million dollars for molestation he suffered at the hands of Father Edward Paquette in the 1970s. The Church now owes more than 12 million dollars to victims in sex abuse lawsuits, some of which are under appeal. The church still faces at least 26 more cases.

Christ the King Parishioner Eve Dubois says, "We have a lot of people who firmly believe in the Catholic faith. We're going to keep on believing. It's unfortunate what happened. Nothing we can do can change the past. All we can do is keep moving toward the future, and hopefully a better future."

The diocese now has rigorous training and education programs around sex crimes that were not in place in the 70s. But the plaintiff in the most recent court case has actually offered to give his millions to church charities if the diocese will defrock and denounce abusive priests, and do away with their retirement benefits. Church leaders are reportedly considering the offer.


Parishioner Tonnie Sullivan says, "I think that's a wonderful thing, actually. I know what happened was very... not right for him. But I also don't think a monetary settlement is the way to go either, so I think it's great of him."

Another parishioner, Lou Meunier, adds, "Of course, there has to be justice done for those who have been taken advantage of. [But] it takes more than money to recompense these people for what they were put through. It's an unfortunate thing. That abuse lasts forever, I believe."


Bishop Salvatore Matano celebrated Sunday Mass at Christ the King in Burlington, one of the parishes where Paquette committed his crimes decades ago. In comments before the ceremony, Matano acknowledged these have been very difficult times for the diocese, and offered sympathy to the faithful who have been affected by the scandal. He said the diocese has many questions it still has to address, and asked for Vermont Catholics to pray for him and the rest of the diocese as they work through those issues.

Church-goer Doris Desroches says, "It's been very hard. We have to have a lot of prayers. It's very hard for the Bishop, I would think."

These Catholics say the Christmas season brings hope to all Christians and they're determined to maintain that hope as their diocese faces certain struggles ahead.