Clerics Distance Themselves As Bishop under Pressure to Quit

By John Cooney and Caitrina Cody
Irish Independent
December 23, 2008

http://www.independent.ie/national-news/clerics-distance-themselves-as-bishop-under-pressure-to-quit-1583589.html

The Vatican and senior Irish bishops expect beleaguered Bishop of Cloyne John Magee to resign over an internal Church report's indictment of him for failing to properly investigate two priests accused of raping children.

"There is little sympathy for Bishop Magee from his colleagues, because he has let them and Rome down," a senior Church source told the Irish Independent last night. "He is on his own."

Senior churchmen fear that if Bishop Magee continues to cling to office, his loss of credibility will damage the spirit of Christmas.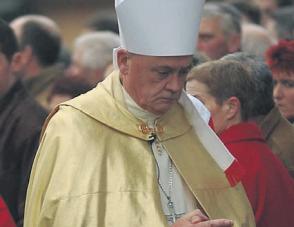 Bishop John Magee at the funeral of slain schoolboy Robert Holohan in 2005



There are growing fears among Church leaders that if he stonewalls into the New Year, he will come under further threat in January when Children's Minister Barry Andrews puts recommendations to the Government arising from a second report from the Health Service Executive.

Furious

Last night as a defiant Bishop Magee, the former secretary to three popes, continued to resist calls for his resignation, his position was further undermined by a canon law expert who revealed that Rome and Maynooth are furious that he did not follow Church law procedures for investigating complaints.

"The handling of the complaints by Bishop Magee is defective on two scores," the canon lawyer told the Irish Independent last night.

"It is clear from last Friday's internal report from the Church's own watchdog that Bishop Magee had completely failed to implement the child protection guidelines agreed for implementation in all 26 dioceses by the Bishops' Conference," the Church expert said.

These guidelines require bishops to refer complaints of child sexual abuse to gardai and the local health boards, a course of action initially evaded by the 72-year-old prelate.

However, the canon lawyer disclosed that the Irish bishops and the papal ambassador to Ireland have been shocked that Bishop Magee appears not to have even initiated the code of canon law -- Rome's law book for the universal Church in legal disputes.

"This code, published in 1983, requires bishops to set up a Church court under secrecy to investigate allegations against priests accused of molesting children," said the lawyer.

"There is no indication in the Cloyne report that Bishop Magee applied the canon law process," he added. "This makes Bishop Magee's position indefensible and untenable"

Last night the beleaguered bishop's position further weakened when Children's Minister Barry Andrews called on him to reconsider his position in the light of the report. Mr Andrews said that the decision was up to Pope Benedict but he struck a further blow at Bishop Magee when he expressed Government concern that he is the patron of all Catholic national primary schools in his Co Cork diocese.

These heavy blows came after a day of repeated calls for Bishop Magee to step down from the office he has held for 12 years.

"The bishop does not seem to grasp that the safety of children takes priority over the protection of priests," said Maeve Lewis, Executive Director of victims' lobby group, One in Four. "Neither does he express any concern that during the period in which he did not act on allegations, other children may have been sexually abused," she added. "He must resign."

Ms Lewis revealed that her office had been inundated with calls from people in the Cloyne diocese since the publication of the report last Friday.

"I believe that these particular cases are only the tip of the iceberg," she said. "It's the final death knell for any belief I had in the ability of the Catholic Church to deal with these situations themselves."

Meanwhile, a former priest revealed his disgust at the manner in which sexual abuse allegations were covered up.

"I posed a question to Bishop Magee at the time of my resignation," said Matthew Ring. "It was this: how can I baptise innocent children into a system when they run the risk of being abused and never seeing justice? What I got was a stony silence."

Mr Ring, who now lives in Britain, said he resigned from the Cloyne Diocese in 1999 because of his "utter disillusionment and deep disgust" with its handling of sex abuse complaints.

Bishop Magee has insisted that the safety of children is a priority for him and the diocese.

"Whilst the allegations referred to in this report are not proven and this report makes no determination as to their veracity, nevertheless my intention is to alleviate those who have suffered in any way that I can," he said when the report first appeared.