Accused Pedophile Paul St. Charles Lost His Priesthood. but That Didn't Stop Nashville's Bishop from Giving Him an Award

By Caleb Hannan
Nashville Scene
December 23, 2008

http://www.nashvillescene.com/2008-12-25/news/accused-pedophile-paul-st-charles-lost-his-priesthood-but-that-didn-t -stop-nashville-s-bishop-from-giving-him-an-award/

The first thing you have to understand is this: Things back then were different. For Frayser, Tenn.'s Catholics in the early '70s, the list went God, Pope, then priests. And they weren't a distant third. So when someone like Paul St. Charles—a man of good humor, a man of the cloth—asked you to go to the drive-in on a Friday night, you just said yes.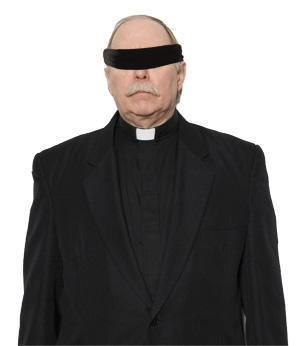 Accused pedophile Paul St. Charles lost his priesthood. But that didn't stop Nashville's bishop from giving him an award



That's what John did. As an altar boy at Our Lady of Sorrows, he had as much reason as anyone to trust St. Charles. It wasn't just that he was different from the other priest—a taciturn ex-boxer who mysteriously cut Mass short during football season. He was different from every other adult John knew. St. Charles didn't talk down to him. And if he had a problem with girls, grades, whatever, the priest was always there.

"It seemed like he took an interest," says John. "I realized why later on."

That first night John was just happy to get out of the house. Grounded again after another failing grade—it was math; it was always math—the high-pitched whine of St. Charles' Chrysler idling outside his home sounded as sweet as a stay-of-execution from the governor. He had no reason to suspect what was coming. Even when the blanket came out.

In order to hear the movie you had to stick the speaker in the window. But it was wedged between the glass and the door frame, leaving a gap. The nip of late-fall air slowly filled the front bench where John sat, so he thought nothing of it when St. Charles produced a sherbert-colored throw. It only occurred to him later, as he lay in bed for the first of many sleepless nights, that the blanket wasn't just for keeping warm. It was there to hide what was going on underneath.

Nearly every weekend for the next nine months, John relived this scenario. He didn't just dream of ways to make these regular appointments come to an end. John dreamed of putting an end to everything.

Lying down on the train tracks—that seemed relatively painless. Or maybe he'd wade out past the swimming hole at Sandy Bottoms, into the stronger currents of the North River. A few kids in town had lost their lives that way. Maybe John could spare his family shame if it looked like an accident.

He finally put an end to the abuse that spring. The blanket came out, like it always did, and John said no. No more.

The first phase was over. The second phase would last until a spring morning more than 30 years later, when John would discover he wasn't the only one carrying a secret. Other men were coming forward, pointing an accusatory finger at St. Charles.

The exact count may never be known. But in the past year, six men have filed suit against the Diocese of Memphis, alleging St. Charles abused them. That number doesn't include countless others who settled before going to trial. Or the initial accuser, who six years ago prompted the first investigation that would eventually lead to St. Charles' defrocking.

"We're up to 17 victims, maybe more," says Ann Brentwood of Survivors' Network of those Abused by Priests (SNAP).

Today you'd be hard pressed to find anyone still shocked that a priest did something terrible to a teenaged boy. But the case of Paul St. Charles is different. Even after being stripped of all priestly duties, he's still accepting awards from the church.

Last year, Nashville Bishop David Choby celebrated St. Charles on a Father Ryan High School stage, presenting him with a plaque commemorating the 50th anniversary of his graduation. Even for those long ago numbed by the tin ear of the Papist nation-state, the sight of the Music City's foremost cleric in a photo-op with an accused child molester was a shocker.

"That handshake ripped the hearts out of (St. Charles') victims," says David Brown, Memphis director of SNAP.

St. Charles' house is near the end of a street overlooking I-24. An angel tied to lattice hovers over baby Jesus in a plastic nativity scene, while a rotted wood wheelchair ramp leads to the front door.

Sitting in a barcalounger in his den, St. Charles looks less man than Thanksgiving turkey, a piece of meat being tended to: thermometer in his mouth, blood pressure cuff on his arm, legs wrapped like gauze-encased sausages.

His nurse, a wispish white-haired man, tears apart the Velcro strap.

"140 over 80," the nurse coos. "That's goooooooood."

At 69, St. Charles has the prodigious paunch you'd expect of a man who no longer walks under his own power. A neuromuscular disorder put him out to pasture 20 years ago, he says. These days he's largely confined to an electric wheelchair.

The spare tire adds to an avuncular image, a late-career Jerry Lewis. But he speaks like a smaller man. His tone is one of constant umbrage, a wounded sparrow pleading his case.

"Oh no, not this again," he cries. "What they keep forgetting is that I'm a victim too."

In St. Charles' mind, the allegations are coming fast and furious for two reasons: quick cash and looming doubts about his sexuality. During his first year after seminary in his hometown of Nashville, he intercepted a note passed during class. He says the sender was warning his friend: Watch out for this one, he's gay.

"Because of the way I talk, because of my mannerisms, people just assumed that about me," he says, fluttering his fingers as if to prove the point. "But I can't help the way God made me."

The main thrust of St. Charles' argument is that these supposed incidents of abuse occurred almost three decades ago. Having passed 20 quiet years in Nashville, says St. Charles, is proof that the claims are baseless.

During the intervening years, he's acted as Nashville's relief pitcher, giving mass in Clarksville, filling in at the confessional and organizing retreats for the diocesan employees. He's even delivered Mass in the makeshift chapel in his living room, where he continues to serve the body and blood every day to a dwindling number of family members.

"If I am who they say I am, then someone from Nashville would make these horrible claims too," he says.

It doesn't seem to register that his victims might have been too ashamed to come forward sooner. Or that, in his attempts to set the record straight, he comes across as the witness who offers an alibi before the cops even say why he's been arrested.

"What they don't tell you is that I spent more time with the girls," he says. "Coaching volleyball, softball.... And did you know I had an El Camino? Those have bucket seats, so how could I do what they say I did?"

St. Charles' breath comes out in short bursts, the steady puff of a pump inflating a tire. He motions a reporter to a nearly dark sunroom, where the walls are alive with color. St. Charles paints pictures of flowers to relax. Most canvases come with a Post-it attached. The painting of purple tulips in bloom, says the stick-um, retails for $75.

The oil paintings help to pay the bills, says St. Charles, but they're also another instance where his past intrudes on his present. Two years ago, SNAP raised hell when he took out an ad for an art show/fundraiser in Holy Rosary's newsletter.

Of course, for St. Charles, the dust-up was just another chapter in a multi-volume misunderstanding whose ending continues to be rewritten.

All those new John Does coming forward, claiming abuse? Why, they're nothing more than prospectors looking to strike a quick fortune. St. Charles knows this is all about his past. And in his version, there's nothing he needs to be ashamed of.

"Any sin I committed 35 years ago I confessed to 35 years ago. Paid my repentance 35 years ago," he says. "And that's the gospel truth."