Ten Minutes With...metropolitan Jonah

By Nicole Neroulias
Pokrov
December 23, 2008

http://pokrov.org/display.asp?ds=Article&id=866

As the new leader of the New York-based Orthodox Church in America, Metropolitan Jonah has inspired the group's estimated 100,000 adherents to hope for a brighter future after years of financial mismanagement and scandal at the highest levels of their church.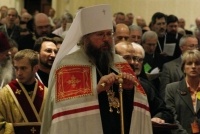 Bishop Jonah of Fort Worth; Texas; was elected Nov. 12 as metropolitan of the Orthodox Church in America. Jonah; 49; has been a priest for a dozen years but was only elected a bishop on Sept. 4. Religion News Service photo courtesy OCA.



Born James Paffhausen, the 49-year-old convert who had only served as bishop for a few weeks, succeeds Metropolitan Herman, who retired in September after a critical report alleged the misuse of millions of church dollars.

As he prepared for his Dec. 28 installation as metropolitan at St. Nicholas Cathedral in Washington, Jonah spoke with Religion News Service.

Some comments have been edited for length and clarity.

Q: You were baptized in the Episcopal Church, then converted to Orthodox Christianity in college. Why did you convert, and what did your family think?

A: I came very close to joining the Roman Catholic Church, but then I found Orthodoxy, and it's kind of been a love affair. The theology, the spirituality, the whole integral orthodox vision and lifestyle — you either fall in love with it or you don't. My parents were horrified; they're not really church-going. But now, 30 years later, they're extremely supportive.

Q: While other Orthodox branches are tied to ethnic communities, the OCA — though originally under Russian leadership — is simply American. What is the church's role here?

A: The OCA has been here for 200 years and has a very strong missionary consciousness and missionary outreach. Ninety percent of our bishops are converts, 60 to 75 percent of the priests are converts, and 60 percent of the people are converts. We're basically focused on being the local American Orthodox Church, and one of my primary agendas is to work with the Greek Archdiocese, the Serbian Archdiocese, the Russian Church, to come together and form a single synod of bishops and ultimately an American patriarch.

Q: Many saw in your surprising election in Pittsburgh last month a real step towards change after years of scandal. What is the first thing you would like to change?

A: We have a lot of healing to do. People felt very betrayed by the previous church administration. The church's step forward is to learn from its mistakes, that's the most important thing. The OCA has had some very expensive lessons recently.

Q: You've preached forgiveness for your predecessors, but questions have been raised concerning your actions as the abbot of a monastery in California, when you gave refuge to Michael Rymer, a defrocked priest accused of having a homosexual relationship with a mentally-challenged parishioner. Isn't there a danger that, as we saw with the Catholic sex abuse scandal, forgiveness could excuse and protect criminal behavior?

A: Forgiveness does not mean to justify a crime. Forgiveness demands that a person recognize that they have committed a crime or a sin, but forgiveness and civil punishment are two completely different things. Somebody could be forgiven and still sent to jail. With a crime in the church, the church leader's responsibility is that such a priest would be immediately removed from his role, and his case would be turned over to the civil authorities.

Michael Rymer paid his price canonically — he was defrocked. But people like Michael Rymer and others need the opportunity to repent. They need to be in a place of safety and of relative anonymity so that they can work out their repentance. If they don't, they're going to be tempted to commit crimes again. But forgiveness doesn't mean they're going to be returned to a position of authority in the church — it means that they can be seen an accepted as human beings, rather than as some kind of monster.

Q: You only spent a few weeks as bishop of Fort Worth, and now you're moving to New York. Did the Texan parishioners join in the rejoicing over your election, or were they upset about losing you so quickly?

A: They were very, very upset. They were very saddened. But, I didn't expect this would happen — I hadn't fully unpacked in Dallas, I had bought a condominium, my Texan driver's license just arrived four days before I left to go to Pittsburgh.

Q: Once you're unpacked and formally installed, what are your first orders of business?

A: We're starting a strategic planning process on Dec. 29. The bishops will come together and try to discern what God is calling us to, and then we'll get together with other clergy and lay leaders to discern together how we should enshrine that as a mission statement, then we'll take that to the dioceses to talk about it. I'm also going to be traveling around a lot, meeting heads of churches in this country and abroad. I'll be making official visits to the churches of Russia, of Constantinople, of Romania. I will attend the Feb. 1 enthronement (of the new Moscow patriarch).

Q: Some people have compared your Nov. 12 election to that of Barack Obama a week earlier, citing the parallels between your ages and relative inexperience, even the fact that you were born in the Chicago area. What do you think of these comparisons?

A: I see where they're coming from. Actually, it was funny because there's also a Metropolitan Jonah in Uganda, and some people thought he was the one who had been elected, so there was some talk of "Wow, the Americans are really going for Africa now!"

I pray that the changes he hopes to bring about are fruitful, and I hope the changes I hope to bring about will also be fruitful.