Area Priests Disappointed after Meeting with Bishop Braxton
Some Say Mediator Didn't Address Their Concerns

By George Pawlaczyk
News-Democrat
December 23, 2008

http://www.bnd.com/news/local/story/589511.html

BELLEVILLE — During sessions aimed at healing a rift between Bishop Edward Braxton and diocesan priests, criticism was thwarted and open discussions on controversial subjects were discouraged, some members of a priests' association say.

The sessions, held Sept. 15-18 at a St. Louis hotel and organized by a consulting group, did little to bring about progress, according to Rev. James Voelker, who kept a journal he titled "Notes and Observations on Convocation."

Voelker, a member of the Southern Illinois Association of Priests, which has been critical of Braxton, said the bishop dodged questions and alleged that the moderators from the Reid Group of Seattle quashed criticism. One example, Voelker said, involved trying to take a microphone from him while he was speaking.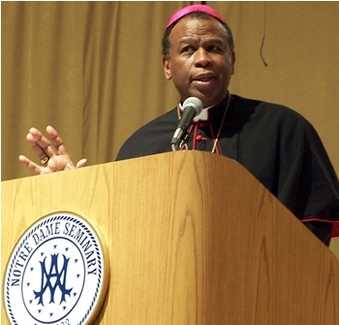 Bishop Braxton



Voelker and other members of SIAP, founded in 1968, who were among about 90 priests at the crowded session in an impromptu chapel set up in a meeting room at the Drury Inn Hotel at Forest Park. They were surprised that the Blessed Sacrament — the physical manifestation of Christ for Catholics — was present.

"The Blessed Sacrament was exposed on the altar during the whole time and was used to quell an initial outburst of anger following the bishop's talk," Voelker wrote.

At one point, Maureen Gallagher, of the Reid Group, rushed to the front and told a priest who was criticizing Braxton, "Please, father, not in front of the Blessed Sacrament," according to Voelker and some other priests present.

Four priests who also are members of SIAP — the Revs. Stephen Humphrey, Richard Daly, James Dougherty and William Rowe — said they reviewed Voelker's journal and found it to be accurate and said it reflected their views of the session as well.

"Most priests afterwards were rather shocked why they used the Blessed Sacrament in that way," Daly said.

Braxton did not respond to written questions concerning the SIAP priests' comments and could not be reached for comment.

Voelker said that Braxton's opening talk — which he described as "one hour and 15 minutes of total self pity and paranoia" — was not interrupted, even though he criticized priests, accusing some of cursing him and "speaking in the media."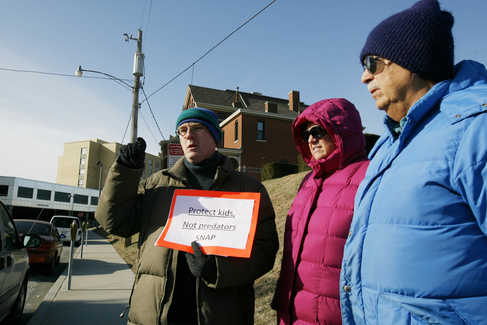 David Clohessy, director of the St. Louis chapter of the Survivor's Network of Those Abused By Priests stands with Sylvia Beuckman and Maury Beuckman both members of FOSIL outside of the chancery office in Belleville
Photo by Derik Holtmann


During the mediation sessions, Braxton failed to address a March letter signed by 46 priests — a majority of the diocese's active clergy — asking him to resign, Voelker's journal states. In the letter, the priests said Braxton should resign for the good of the diocese because of misuse of donations, failure to communicate with priests and other issues.

Braxton also did not respond to questions about using about $18,000 from restricted funds for Chancery office furniture and ceremonial garments. Braxton later publicly apologized and stated that a benefactor had repaid the money.

While Voelker, Daly, Dougherty and Rowe said the mediation sessions did little to repair relationships between Braxton and his critics, four other priests contacted for a story about the convocation that ran Dec. 9 in the News-Democrat said they thought the talks were productive.

One of those priests, the Rev. Dennis Voss, pastor of St. Liborious Church in St. Libory and a member of the steering committee for the talks, said Friday, "We are trying, at least, to work something out with the bishop. We tried to get some open discussion, but we didn't get as much as we'd like." He declined further comment.

Daly said that when the discussion turned to allegations of sexual misconduct, particularly by a priest in the 1970s and '80s that included a cover-up by former high-ranking diocese officials years before Braxton's appointment here, the session lasted only 30 minutes. A member of the Reid Group limited questions on the subject, the priests said.

"There was some discussion, but I don't know what good it did," Daly said. "It was all controlled."

Tom Reid, head of the Reid Group, could not be reached for comment.

Dougherty, pastor of St. Mary Church in Trenton, said, "Even the discussion of the 46 priests who signed the letter, he got out of by saying the press got it, and it was not signed. We signed a separate piece of paper that was delivered along with the statement."

All five priests said Reid Group moderators "manipulated" the talks by telling priests what they could talk about and who among them could speak.

"It was controlled. There wasn't much chance for any open discussion. There were time limits and limits on who could say what," said Daly, a retired priest who lives in Belleville.

Asked whether anything positive came from the talks, Daly answered "no," but quickly added, "So many priests came, it was an indication they were looking for something. Maybe that's positive."

Observations by Voelker and his fellow SIAP members included:

• Braxton complained that priests who publicly objected to his $250,000 renovation of the bishop's residence in Belleville scared away a benefactor who paid for the home improvements and would have funded other diocesan projects except for the publicity.

• The bishop admitted some failures by not holding more regional meetings or having more conversations with individual priests.

Rowe, pastor of St. Mary Church in Mount Carmel, said, "The sessions did nothing to address priests who had concerns."

Humphrey, a retired priest now living in St. Louis, said, "When you are being told 'No questions — no questions in front of the Blessed Sacrament' well, when I heard that I felt that it was pointless."

Contact reporter George Pawlaczyk at gpawlaczyk@bnd.com and 239-2625.