Ada Pastor Accused of Lewd Acts with Child

KXII
December 24, 2008

http://www.kxii.com/home/headlines/36697024.html

[with video]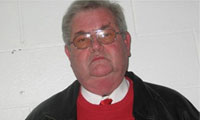 Kenneth Wayne Honeycutt



PONOTOC COUNTY, Okla. ¯ An Ada pastor is out of jail Wednesday afternoon after he was arrested accused of lewd acts with a child.

Officials say 60-year-old Kenneth Wayne Honeycutt is charged with four felony counts of lewd acts with a child under the age of twelve.

Investigators say it was a joint effort by the multi-disciplinary team that lead them to the pastor of New Home Baptist Church in Ada.

Honeycutt is expected back in court next month. His charges could carry a life sentence.